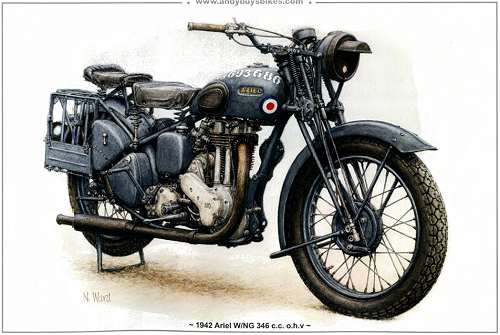 2014 Classic Motorcycle Calendars
The end (of 2013) is nigh. Here's how to keep track of 2014, and celebrate your enthusiasm for classic bikes all year round…
The Andy Tiernan calendar is always a favourite, featuring beautiful colour drawings of grand old British bikes reproduced at a sensible size so you can easily enjoy them. It includes details about each model and the individual machines, too, so you even learn a little as the months fly by. It adds a bit of class to the garage, we think. All proceeds go to charity in memory of David 'Beret' Berry.
Send a cheque for £5 made payable to East Anglian Air Ambulance plus postage stamps to the value of £1.10 for UK delivery, to Andy Tiernan, Old Railway Station, Station Road, Framlingham, Woodbridge IP13 9EE. If you'd like to have a calendar sent overseas, see
Norton Owners
The majority of classic motorcycle calendars tend to be A4 size, but the NOC one is still large-format A3, and full colour. So each month has space to feature a different model of classic Norton, like the 1959 ES3 seen here. The front cover shows off a real rarity, the dohc P10 prototype, while other months feature lightweights, Dominators, specials and of course the inevitable Commando. There's space to write notes in for each day as well as the dates for the previous and following months. Pretty and practical, see.
It costs £7.20 plus delivery from
Ace Dates
Even if you're not an especial enthusiast of Triumph motorcycles, we defy you not to be dazzled by the sheer spiffiness that is the Ace Classics calendar. The artwork is simply awesome – and the 2014 edition even includes Steve McQueen's 1964 ISDT machine.
| | | |
| --- | --- | --- |
| £10 from | | Colour Triumphs on Now… |
Free from the VMCC
Every paid-up member of the Vintage Motor Cycle Club receives a free calendar, which not only lists British Bank Holidays but also highlights the major classic bike events of the year. Each month features a big pic of a VMCC members' motorcycle plus two smaller images, ranging from veterans through to 1970's superbikes, all carefully captioned. The majority of the 38 bikes featured are British, as you might expect, but there's a Continental contingent plus a couple of machines from across the pond.
If you're not a VMCC member then you can buy the calendar for £5.50 from
AJS & Matchless
After courting controversy with 'girlie' calendars, the AJS & Matchless Owners' Club are attempting to please all of the people all of the time by offering a choice of TWO calendars for 2014. Both calendars feature high quality images on pure white backgrounds. As in previous years, one calendar features lovely ladies on bikes of the marque. But for those who prefer only their bikes to be semi-clad and on public display, there is another calendar which features some outstanding AJS & Matchless models – of the motorcycle kind.
Both versions cost £7 each from
Mono Classic Motorcycles
Step back in time with this nostalgic calendar which uses images taken from the old green and blue 'uns, the weekly magazines which recorded motorcycling life during the heyday of the British bike industry. The twelve black-and-white images evoke memories of the good old days, and each photo is captioned to explain the scene. Calendars show UK Bank Holidays, come with a backing board and mailing envelope, are spiral bound, and have space for daily appointments.
Cost £8.49 with free delivery to the UK from
—————
---
Advert

Enjoy more RealClassic reading in the monthly magazine. Click here to subscribe.
---