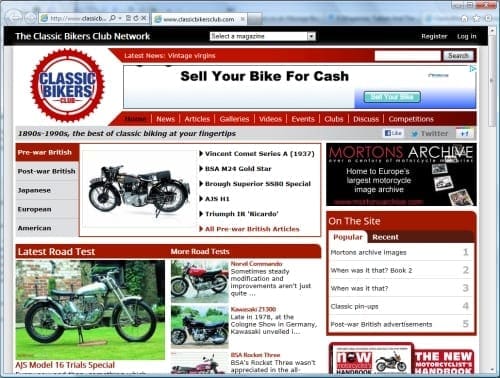 It's hard to imagine that you've read every single story on RealClassic.co.uk already, but if you're after yet more info and entertainment then a new site reveals forgotten gems from the world's leading classic bike archive…
'Please, sir, I want some more' said Oliver Twist*. If, like Oliver, you want more – reading, in this case, not gruel – then you should hop over to classicbikersclub.com to browse through an enormous library of road tests, buying guides, technical articles and images. The content ranges from the 1890s through to the 1990s and is divided up by nationality and era, so you'll find sections dedicated to prewar Brits, postwar Brits, Japanese, American and European classics.
A significant proportion of classicbikersclub.com is open access, so you can re-visit old articles from various paper magazines including The Classic Motorcycle, Mechanics and CBG. You may even find the odd contribution from RealClassic writers – we're using this opportunity to share some spiffy stories from older issues of RC which have sold out and are otherwise unavailable. We also thought that more people needed to read Frank W's Toastmaster saga; he's thinking of dusting it off and finishing the job once the £100 Ajay is off the bench…
Striking a blow for bold innovation, classicbikersclub.com goes beyond reproducing the written word from the last century and gallops into the modern world with moving (talking!) images, too. There are video clips from recent shows, plus interviews and short films on restorations and the like. The archive footage is definitely worth seeking out – our current favourite is the TT snippet from Blue Peter. Down, Shep!
There's also a forum which the moderators hope will be packed with 'lively discussion'. Red flag to a bull, that. Off you go…
In additional to all the freebies on classicbikersclub.com, there's also an extra-special zone for magazine subscribers – and here's a nice bonus for RC readers: if you subscribe to the monthly RealClassic magazine (in any format; paper or Zinio) then you'll be able to register and login to this exclusive area. So RC magazine subscribers will be able to view a range of archive articles, including period roadtests from the Green and Blue 'uns.
On top of that, all RC subscribers will be officially enrolled in the Classic Bikers Club, you lucky things, which gives you access to a range of discounts on motorcycling accessories and products, plus the chance to take part in exclusive competitions or snap up limited edition posters and prints. The discounts and savings you can make via the Classic Bikers Club should allow you to recoup the cost of your annual magazine subscription, and if you're an existing RC subscriber then you're already most of the way towards being enrolled in the CBC. You just have to wend your way through the online registration process and then you can see all the hidden bits, and follow the 'subscriber-only' links.
By the by, this doesn't affect your membership of the RealClassic Club, which will continue in its own sweetly sublime way, offering such enticements as Jaffa Cakes and HobNobs – if not £120 off an Arai helmet; the initial offer for Classic Bikers Club members. If you're an existing RC subscriber then hop over to classicbikersclub.com to register and qualify for that Arai offer. Or take out an RC subscription now; good grief, if you're here then you're already reading us… you could be reading twice as much of us every month!
If you're not already a subscriber to RealClassic magazine and you'd like to be a part of the Classic Bikers Club** then just take out a subscription to one of the 12 titles offered by classicmagazines.co.uk
Skimming around classicbikersclub.com, we found plenty to entertain us. Anything by Bob Currie, Tim Holmes or Bob Cordon-Champ is well worth re-reading, and we can forgive the odd flaw in the formatting because it's a mammoth task to organise this much material. As we well know!
Perhaps the most useful function on classicbikersclub.com is the tiny wee search box on the top right. We found it a little tricky to quickly locate stories by marque and model (because they're filed under age and then as 'buying guides' or 'road tests'), but that search facility does the job in a picosecond. 22 results for 'Norton Commando' and only one for 'Douglas Dragonfly'. Now. What does that tell us…?
————
Classic Bikers Club: www.classicbikersclub.com
Registration info: www.classicbikersclub.com/pages/about-classic-bikers-club
Magazine subscriptions: www.classicmagazines.co.uk

————

*Look, everyone else is celebrating Charles Dickens' 200th birthday, so why shouldn't we?

**Yes, we'd feel more comfortable if there was an apostrophe in there somewhere. But there isn't because (so we're told…) websites don't

—————
---
Advert

Enjoy more RealClassic reading in the monthly magazine. Click here to subscribe.
---