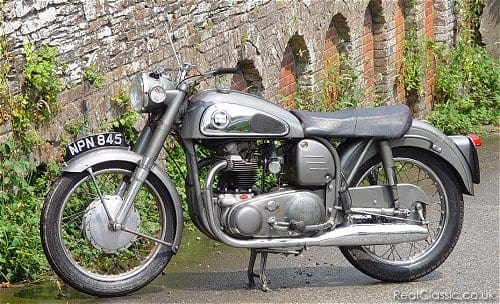 What do Norton featherbed bikes, rip-snorting café racers and Corgi Brockhouse scooters have in common? They all inspire enthusiasm in the world of classic motorcycle clubs…
Café Racer Day
The Oxford branch of the Norton Owners' Club are hosting an open-to-all Café Racer Day. It starts at 12 noon on Saturday 10th September 2011 and is open to ALL café-racers, of any age, marque, nationality or gender, ridden or trailered. For this event café-racers are being defined as modified road-bikes (could be modified from a racer, even) with handlebars below the top-yoke.
There is no charge to enter or visit, but only machines registered by midnight Sunday 4 Sept will be eligible for judging for the Best-of-Show trophy or the highly commended rosettes which will be awarded on the 10th. All pre-registered entrants will receive a small memento of the event.
In addition to the ranks of café racers, there will be two Norton Owners' Club displays, both relating to the world of café racers. One will feature the café racers produced by Norton over the years, maybe including the grand-daddy of all café racers, the O'Donovan BS Special, through the Inter to the Commando 'Yellow Peril' proddie racer and JPS Special, plus the latest incarnation, the Commando 961 CR.
The other display will feature an example of every Featherbed model ever produced, from the famous frame's initial appearance in the Manx racers right through to the Mercury. The Featherbed frame is most commonly associated with the classic café racer in most people's minds, be it propelled by a Norton, Triumph, BSA ,Vincent or even Honda / Kawasaki engine. This display will show what the original donor bikes looked like. To cap the Featherbed feature to perfection, Ken Sprayson will also be on-hand, all being well.
If you'd like to display a Norton Café Racer or a featherbed model, please contact the organisers in advance to arrange a suitable space on the day. Or you can ride your classic café racer along on September 10th (but display space may be limited so it's advisable to prebook).



Article continues below...

---

---



"Tri-Less" Cafe Racer






Cafe Racers on Now…
The venue is Sturdy's Castle pub on the A4260 Kidlington (Oxford) to Banbury road at Tackley, 10 minutes from the A34 or J9/J10 off the M40. For GoogleMaps users, the post code is OX5 3EP. The pub has a large car-park and an adjacent field where FOC camping will be available from Friday 9 Sept through to Monday 12 Sept. Drinks (including real ale), tea, coffee and food will be available throughout, and Sturdy's also offers accommodation if required – details on application.
To register your display Norton CR or Featherbed, or any café racer you'd like to bring, please contact Oxford Branch secretary, Peter Scatchard preferably by email on peter.scatchard@motorcyclewriter.co.uk or call 01865 864 864.
————
Corgi Club
63 years ago a club for anyone interested in the diminutive Brockhouse Corgi folding scooter was formed at Kew Green, then in Surrey. After many decades of inactivity, a new club has been formed, this time online but still for anyone interested in the Corgi.
The Brockhouse Corgi was a post-war development of the Welbike, the legendary folding scooter that was designed during the war by the British Special Operations Executive to be dropped by parachute to agents and troops in occupied Europe. Although they are completely different machines, many people confuse the two bikes, perhaps due to their shared lineage and the fact that many Corgis are erroneously painted in military colours.
The Corgi was unveiled in 1946 and its compact, practical design, with folding seat and handlebars and very economical performance proved popular in austere times. It was powered by a 98cc Excelsior Spryt single cylinder two-stroke engine, which could propel the bike to speeds around 30mph. The machine was started by pushing or paddling off with the feet until a kickstart was added on later models.
Three versions of Corgi were produced, I, II and IV with over 24,500 rolling off the production line at Southport, Lancashire. Many were exported, with some going to the USA where it was known as the Indian Papoose after Brockhouse acquired the Indian Motorcycle Company in 1950. Contrary to popular belief, the Corgi was not a military machine although the Royal Signals White Helmets display team did use a small number of them as a humorous addition to their shows!
The Corgi soldiered on valiantly until 1954, by which time the higher technology and increased comfort of more modern machines affected the Corgi's marketability. Today, higher road speeds and traffic density make the Corgi an interesting road ride to say the least, but smiles and dropped jaws are guaranteed from any people you pass! It's not known how many of these bikes are still on the road (that's something the club hopes to find out), but the steady trade in complete, running machines on eBay and other websites is encouraging. Most spares seem to be available from private sellers and occasional NOS gems appear for sale.
Joe Fuller started this new club after seeing the Corgi for the first time in the film 'The Titfield Thunderbolt'. He had no idea what it was until many years later when he spotted one at a classic bike show. After much trawling through classified adverts, one came up for sale and Joe's own Corgi story began.
The club is online with a newsletter, photo gallery and technical forum. In due course, events and rallies may be held. The club aims to provide a machine dating service as well to assist owners registering their Corgis, as well as a machine register to get an idea of the numbers still in existence. Membership is free of charge and a form can be obtained via the website: www.brockhousecorgiclub.com
————
There are many more clubs listed in our Directory of Classic Bike Clubs…
—————

Enjoy more RealClassic reading in the monthly magazine.
Click here
to subscribe.