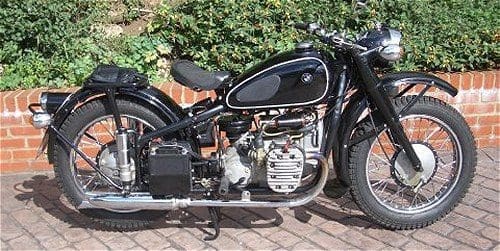 Fiery Fred bought a modern classic – a brand new Chang Jiang 750 built into a 1950's frame. And behold! On its maiden journey it behaved almost exactly as a 50 year old bike would…
After reading the article on this site some time back, concerning the eccentricities of the Chang Jiang 750 sidevalve, I suppose it was fate and only a matter of time before I succumbed to buying one, being a lover of things just a bit different.
I looked in vain for a secondhand example but only found a four year old model with a chair which the dealer did not want to separate, not unreasonably. I looked at the possibility of importing one myself and cutting out the middleman. But by the time you pay the £1400-odd for the bike, ship it over for about £300 and then pay import duty and VAT on it, and then have to contemplate convincing the DVLA that it really is a 1957 frame and pay to register the machine… well, John Lawes at BEMW's price didn't seem too bad really! The week after I bought the bike there was another four year old machine on eBay which didn't sell and the vendor would have taken £1200 for it! I think that one was down to Mr Murphy. Hey ho!
BEMW offer various upgrades like a repainted tank with white lines on it, and what is known as a 'coffee can' rear lamp and a sidestand, etc, and these I opted for. I then sat back and waited what seemed like a very long two weeks until I could go up to Derby and collect the beast.
The bike was ready but the nice new black and silver pressed numberplate wasn't. In the end I couldn't contain myself anymore and made up a plate in readiness for the trip home (making, I thought, really quite a professional job with my cut-out numbers!). John phoned and told me that the new plate had arrived at last and perhaps I would like to come and pay him some more money.
My friend Tony was enlisted to take me and my riding kit to Derby and on arrival we were treated to a tour of John's veritable museum of antiquarian bikes. These included a wartime BMW with chair, complete with MG42 machine gun (Tony, who does not like bikes but does like guns, wanted this one at only £6K!) and a pair of BMW 1930's racers.
We had a cup of coffee and a chat, I donned my boots and set off through the Derby traffic southwards — or so I thought! I'd had a short course of instruction, none of the details of which I apparently absorbed. Nor did I remember the instructions on how to proceed in the appropriate direction out of Derby!
I managed to negotiate the car park and the side road before stalling the Chang, of course blaming the bike and not me! Some of the inhabitants of Derby seemed to be quite amused by my antics but then they may well have seen it all before and gather there on Saturdays just to watch the fun…



The electric starter worked well, however, and we were soon away again and battling to find a neutral — any neutral would have done! (Actually, on the off-side of the gearbox there is a small lever, which is all that's left of the original hand-change mechanism, and this will allow you to select a neutral, or indeed any gear as well).

It was a very hot day, there was a great deal of traffic unsympathetic to a chap riding a very new (although old) and strange motorcycle with all the controls in the wrong places through a busy city centre on a Saturday. Finally I made it out on to the country roads and was then in my element, and sailed along merrily keeping to the prescribed 40-45 mph. Wow!

Just when I thought everything was going fine she started to splutter and cough. Pulling in the clutch I petered to a halt next to a field full of cows. The cows were obviously not impressed by Nanching Aircraft Company's dedicated copy of a 1938 BMW R71 flat twin! Well, you know how it is. You always think the worst, don't you? But I'd covered about thirty miles with only a small amount of fuel in the huge tank so it suddenly dawned — try the reserve! Off we went again and all was well with the world (even if it was a little strange, still).






Ural stuff on eBay.co.uk
Now finally engaging the old brain, or so I thought, I decided to stop and get some petrol and also regroup, as it were, with a bar of chocolate (well it works for TP). I pulled in to a large filling station near somewhere or other, at this point it didn't really matter where I was as I was enjoying myself, or so I thought.
The man filling his car on the opposite side of my pump remarked on the good condition of such an ancient bike and of course asked how old it actually was. I told him 1957 knowing full well it had been made only this year, albeit assembled in a 1950's frame. He smiled his approval as older gentlemen do, with a sad and yearning look in his eyes, remembering that craving for the open road and hearing the 'Poop, poop' from Mr Toad's latest toy… Sorry; I started to go off in to 'Wind in the Willows' then!
I ate my Fruit and Nut and drunk a small bottle of some obscure juice and set off again, feeling that a little more in control of the situation. Wrong! We came to a short stretch of dual carriageway which was log jammed, and she started to get very hot and bothered… and so did I. I took the next slip road and everything seemed to settle down again until I reached Kettering. You've heard of the Amityville Horror, well, this was the Kettering version. We were now running on the right cylinder only and although 325cc should have kept things going in a lumpy sort of way, in very heavy traffic it wasn't clever at all. I decided to stop and let things settle down a bit.
Sidevalves, as I learned years ago when I had a 1932 BSA, are prone to running on the hot side but it felt for all the world as if things were tightening up to the point where an unexpected stop would be imminent, anyway.
To cut a very long story short an allegedly dodgy spark plug meant recovery by Carole Nash. The very nice men from the rescue company, despite one being their motorcycle expert, had no idea what to do with a Chang Jiang and I, having thought I was collecting a brand new machine, had only and adjustable spanner / multi type tool and a mobile phone with me. I arrived home at 7pm – and I'd intended to be back for a late lunch! Best laid plans and all that. She Who Must Be Obeyed was of the opinion that as this was a supposedly NEW bike there would be none of the usual breakdowns, but did take pity on my newest failure…
Next installment: will Fred find out what's causing the problems? And how will he get on with his Chinese BMW over the following year?
---
Advert

Enjoy more RealClassic reading in the monthly magazine. Click here to subscribe.
---