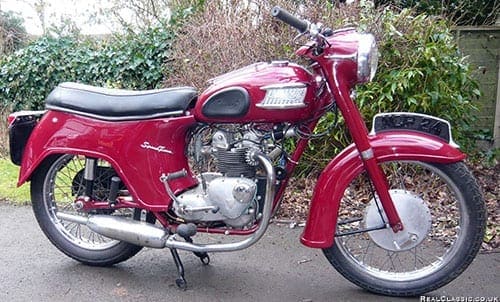 Buying Classic Bikes
With big-ticket vintage and classic motorcycles selling for mega-money, some folk have been asking if classic bikes aren't just getting ridiculously expensive. We snooped around the marketplace and found some cracking classics alive and kicking for under £3k…
Yes, some Vincents sell for north of £100,000. Yes, a Zed One really did fetch $75,000 recently. Yes, some old motorcycles have massively appreciated in valve. BUT… there are still plenty of rideable classic bikes to be found at less than heart-stopping prices. Here's a snappy selection of sensibly-priced classics coming up for auction in the next few weeks.
You would expect a 500 Triumph twin to be out of our self-imposed price range, but this 1960 example has had an engine transplant, so it won't be worth as much as an original and standard machine. The replacement motor is from a later T100 – which if you intend to ride the thing is hardly a disadvantage. The bathtub rear enclosure isn't too everyone's taste (especially not if the colour in real life is as lively as this image), but again that will keep the bidding under control. The auctioneer says: ' Complete with V5C and recently used, it should be ready, subject to the usual checks, to take to the road.
Estimate: £2200 to £2400. Rare to find a road-ready Triumph 500 for under £4k these days.
On sale at: Bonhams auction, 25th April 2015, Stafford Show
ARIEL VB
This one is a little more of a challenge and its appearance will put off a lot of people. However, a 600 sidevalve single is a serious motorcycle so you should look past its patina if you're hoping to bag a bargain. The 1953 machine has matching numbers and was bought be the current owner back in 1976. Little used until 2007 when it was recommissioned. Comes with a pile of old paperwork and V5C. The auctioneer says: 'The Ariel is running well and is ready to be enjoyed by the next owner.'
Estimate: £1500 to £2000. A snip at that price. Someone will pay 100% more.
On sale at: Charterhouse Auction, 15th April 2015, Bath and West Showground
MOTO GUZZI V40
A more modern, Continental classic to add some variety – and a very unusual one to boot. We had to double-check that the 'V40' moniker wasn't a misprint, but it does indeed appear to be a 400cc V-twin which dates from 1987. Has hardly turned a wheel with just 3631km recorded on the odo. The auctioneer says: 'Straight from three years dry storage in a private collection the vendor reports that the motorcycle starts but could do with a carburettor clean.'
Estimate: £2000 to £2500. Could actually go for less as many folk will be confused by what it is and put off by the idea of re-commissioning it.
On sale at: Cheffins auction, 25th April 2015, Ely, Cambs
BSA BANTAM
This 1950 Bantam D1 isn't entirely like its roadgoing counterparts – the hard-to-find Competition model differs in several significant ways from the more workaday two-stroke tiddlers. You've no doubt spotted the slimline high-rise mudguards; at the back there's an extra-large sprocket riveted to the rear hub.
| | | |
| --- | --- | --- |
| | | Bemused Bantams on Now… |
The single saddle is supported by its own frame and the cylinder head is fitted with a decompression port. The auctioneer says: 'fresh from a jaunt along the local green lane it was running well on inspection and started readily. This is a most uncommon example which is presented in complete and fine running order with V5C.'
Estimate: £2500 to £3000. A fair bit more than the average Bantam but it is a little bit different to the norm.
On sale at: Cheffins auction, 25th April 2015, Ely, Cambs
ROYAL ENFIELD CONTINENTAL GT
No, not an Indian-built nearly-new 535 big single, but a Redditch-built 1965 250cc sportster, all the rage again now that café racers are de rigueur. This is an early example which has been restored quite recently, and has a V5C. The auctioneer says: 'It is running well, with the correct glass-fibre tank and accessories to catalogue specification.'
Estimate: £2500 to £2900. It's tidy enough to go for more than that, but bidders may all be saving themselves for Vin twins…
On sale at: Bonhams auction, 25th April 2015, Stafford Show
TRIUMPH TIGER 90
You could spend some time and energy putting this 350 Triumph twin back to standard – or you could put it back on the road and ride it. It's been in a private collection for a while so we suspect hasn't had too much use of late. The current owner rebuilt the engine with new big ends, piston rings and new oil pump. The auctioneer says: 'He advises us that the engine is running very well since the rebuild and sounds great.'
Estimate: £2400 to £2600. Be prepared to spend a little cash and time on fettling it.
On sale at: Charterhouse Auction, 15th April 2015, Bath and West Showground
---
Advert

Enjoy more RealClassic reading in the monthly magazine. Click here to subscribe.
---