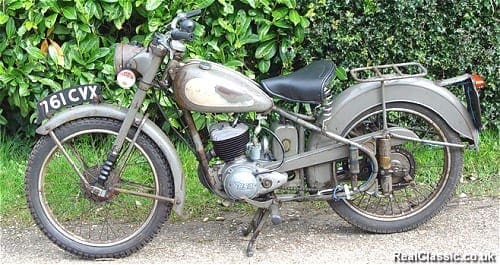 The BSA Bantam celebrates its 60th anniversary in 2008, so now is an excellent moment to introduce the club which caters to fans of the featherweight two-stroke…
The BSA Bantam first went on general release to the British public in 1948. Built down to a price (£60 plus purchase tax), the Bantam provided get-to-work transport for a generation. Most notably used by telegram boys of the GPO messenger service (we've more information about that here), the Bantam was used around the globe. Bantams saw service with the Army, Royal Navy and RAF; even the AA trialled them. Bantams were used in the peatfields of Ireland, by District Nurses and officials throughout Africa and by sheep farmers in Australia.

BSA Bantam

By 1971, the Bantam had grown from 125cc to 175cc, and up from three to four gears. Over half a million Bantams had been built. Another generation of youngsters had learned how to ride on them, before moving on to bigger bikes or even (perish the thought) a newly-affordable motor car.



The BSA Bantam Club is now six years old, and has seen huge growth over the past two years: around 15-20 new members join each month. Now with over 600 members, the Club has launched 17 county-based Area Sections which embrace over half the membership.

The Area Reps have begun a range of local activities and attendance at regional events. This will compliment the impressive club displays at Stafford shows, Shepton Mallet, Stanford Hall, and the prestigious Classic Motor Show at the NEC. Last year, Chairman Mike Kilvert's racing Bantam won the Best Special award at the Borders Classic Bike Show.

But it's not all 'show.' The Club is getting very good at receiving and responding to member feedback. Hence, the Club is starting to harness enthusiasm for trials and competitions, and hopes to branch out into other activities. But the main output of the Club remains the quarterly 'Bantam Banter' magazine.

This is now professionally produced and a credit to the club (in fact, it would be a credit to many, much larger organisations). It is a very polished and popular magazine, printed in full colour, which contains a wealth of technical features, maintenance hints and tips, historical articles, and targeted advertising. The magazine is absolutely pivotal — and it's a good read too!






Bantam Bits on eBay.co.uk
During the Bantam's 60th anniversary year the Bantam Club has been especially busy. Already they've tackled a Land's End to John O'Groats Run, where a small team rode the whole route, with enthusiasts joining for individual stages. The Club's first National Rally was held at the VJMC's Uttoxeter Show in July.
September 27th 2008 will see the Bwlch-y-Groes Tester's Run: this route was first used to trial the Bantam in 1947. it is a short, sharp run up a Welsh mountain (1-in-4…) and it will be an excellent day out. Club members and any Bantam enthusiasts are welcome to attend. Contact Mike Kilvert (mike.kilvert at btinternet.com) for details about how to join the fun – if the full 70 mile route sounds a bit daunting then you can always opt to do the 40-mile short run.
You'll also be able to find members of the BSA Bantam Club at the Stinkwheel RealClassic Bike Show on Sept 21st, the Classic Mechanics Show at Stafford in October, the Copdock Motorcycle Show on October 5th and the Classic Motor Show at the NEC on 14th to 16th November 2008. The show is mainly for classic cars, but there is an increasing number of bike clubs. It is especially pertinent for the Bantam Club, as most classic enthusiasts started their motoring career on a Bantam. This show appeals to a slightly different audience, and has attracted a great many new members.
There is no shortage of ideas coming forward to develop the Bantam Club further – a Club website, trials events, more Road Runs, and attendance at more regional events – but the Committee needs to recruit new blood to assist the beleaguered half-dozen stalwarts, upon whom most of the organisational burden falls. So if you're interested in BSA Bantams and have some time on your hands then the club would love to hear from you.
Of course, new members are always welcome and the Club offers a wide range of support and services including vehicle dating and technical enquiries. Contact the membership secretary, Bryan Price, for details about how to join: d3bantam at btinternet.com (or send an SAE to BSA Bantam Club, Old Orchard House, Shepton Lane, Sleaford NG34 0TQ.
---
Advert

Enjoy more RealClassic reading in the monthly magazine. Click here to subscribe.
---