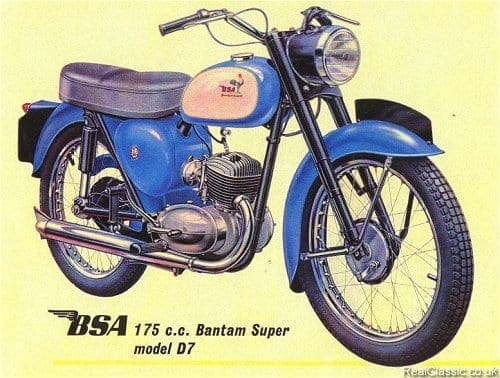 One of the smallest old bikes inspires some of the most ferocious dedication among its owners and enthusiasts. Go to any classic motorcycle show and you're bound to meet them…
Next time you're wandering around a classic bike show, keep your eyes peeled for a green gazebo beneath which lurks an interesting array of British two-stroke BSAs. You'll probably have located the BSA Bantam Club, and will be able to spend a happy half-hour admiring their members' machines. Every time we've seen the Bantam Club stand it has provided a carefully considered overview of the various models, incorporating stripped-down mud-pluggers, dazzlingly restored concours champs, carefully conserved original road-runners and pretty much everything in between.
The inaugural meeting of the club was held in 2002 and within a month the first edition of the club's magazine, Banter, was in print. The club's first show stand was at Founder's Day that year, when just one Bantam was on display. Within the next 12 months membership had risen to over 150, and the Club started sprouting a full-size committee, offering technical advice, organising meetings at shows and providing a shop for regalia.
By 2005 the Bantam Club had grown to the extent that it could offer official dating services, authorised by the DVLA. To make that possible, the Club appointed a Dating Officer and acquired a complete copy of BSA's Bantam production records which had been held by the Science Museum for many years. These show the frame number, original engine number, the date when the bike left the factory and to whom it was sold.
As membership continued to grow so the Bantam Club has developed, and now its quarterly magazine is produced professionally and swiftly delivered to some 800 members. The Club organises all manner of involving events for its members, including a possible Land's End to John O'Groats ride (should be entertaining, going all that way on two-stroke tiddlers!), a Normandy excursion, local rides to summer shows, plus the big stands which you'll find at Stafford and the NEC in the autumn.
Barry Cook is the Club's Chairman who says; 'The committee is dedicated to providing a club that members want to be a part of. Our aim is to give the club a local feel irrespective of where the members live, with a national network to back it up as required. Providing services like technical help and a facility for dating Bantams with approved certification from the DVLA should always be an integral part of what we do. The club maintains close contact with the media and has gained the reputation for being very active in the vintage motorcycle fraternity. The club magazine has gained a reputation for quality and content and is a welcome sight when it drops through the member's letter box – especially to those members who are rebuilding a Bantam!
'It is our aim that by providing a regular stand at the various large events nationwide we can encourage our members to meet each other.
'Finally, as a certain person once said think not of what the club can do for you but more what you can do for the club. When a member joins we not only get a bike we get a brain thrown in for free!'
The online Club facilities include masses of technical advice, plus a busy forum with over 200 users – so there's plenty of people to ask should you run into trouble, or be looking to purchase your first Bantam. Topics include the ever-pressing matter of 'is my Bantam too slow?' alongside recommended carb needle and jet sizes, wiring and electrical info, plus details of converting bikes to 12V, and so on. Owners will find the workshop data, original manuals and overhaul procedures in the technical section utterly invaluable. Prospective owners should also browse this section of the Club's website to reassure themselves that Bantam ownership can be extremely straightforward on the spannering side of things!
The Bantam Club also offers a range of regalia along with discounts on spares and insurance. More importantly, the Club officials are very aware of the importance of the BSA Bantam in the wider scheme of classic motorcycling. Chatting to the chaps at a Show last year, it was obvious that this Club goes out of its way to welcome newcomers to the possibility of owning an old bike. The prices of Bantams remain reasonable, and for many riders the Bantam provides a tentative step backwards in time and into historic motorcycling. Insurance premiums don't cost too much, and spares for many models are in good supply. If you're going to start riding older or British bikes then the Bantam makes perfect sense for a first choice.
| | | |
| --- | --- | --- |
| | | BSA Bantams on Now… |
Many classic bike enthusiasts bemoan the lack of younger people joining the throng – the BSA Bantam Club has gone out of its way to address this issue, and the club members take pains to chat to passers-by at all events. You won't find their bikes being roped off and protected by 'do not touch' signs. Visitors are encouraged to bounce around on a Bantam and try it for size, while being given plenty of helpful advice about the best models to look for to start with, how much to pay, and where to find a suitable bike.
So the BSA Bantam Club aren't simply keeping their own interests alive – they're encouraging more people to take the plunge into classic motorcycling in general. That alone has to be worth the membership fee* to join the Club!
————————–
*Although the one tiny criticism that we have of the club website is that it's not entirely obvious how ones joins this organisation, or how much it costs…
————-
Shameless Plug….

Buying via any of these links helps to support RealClassic.co.uk:

Panther Publishing for classic biking books

Classic-Motor cycles.co.uk for a huge range of t-shirts, posters and prints

Motorworks' eBay shop or the BikerOneStop eBay shop
for all sorts of useful bits and bobs

---
Advert

Enjoy more RealClassic reading in the monthly magazine. Click here to subscribe.
---