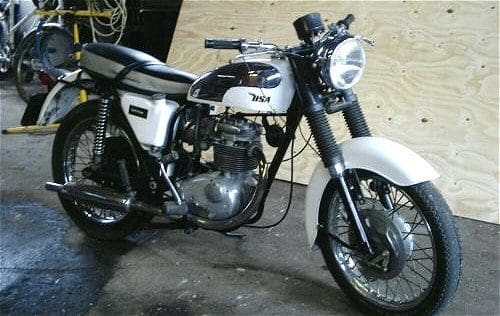 When Geoff Reid bought a cheap restoration project, he wasn't expecting to unravel the working history of a 250cc police machine. Classic bikes tend to bring you more than you bargained for…
How do you while away a spare half hour at work? The answer is simple. If there is no one around, why not browse eBay. I typed in 'BSA motorcycles' and… look what came up, a 1969 ex-North Wales Police BSA Fleetstar with no reserve.
This bike really excited me. To go back a few years, well forty, to be exact I was a police motorcyclist starting my career in Surrey chasing rockers up and down the A30 to and from the Old Manor Café at Blackwater on my Tiger 100. The secret weapon in those days was the level crossing at Sunningdale. If you couldn't catch the bikes you could always get on the radio and get the level crossing gates closed… gotcha!
In 1970 I transferred to Cumbria Police based at Keswick and they had three Fleetstars that were used at the detached beats of Braithwaite, Bassenthwaite and Threlkeld. When these officers were on days off, etc, the bikes came into Keswick and I was always using them as they were much nippier than the Ford Transit.
I have been a committed motorcyclist all my life and now ride a BMW R1150RT and I am involved in my spare time with the London Motorcycle Museum (www.london-motorcycle-museum.org).
Back to eBay. Turned on by the photographs, and the fond memories of the Fleetstar, no reserve, I made a bid. When the bidding got above £600 I pulled out and the bike eventually went for £1600. Ah well, it did make work interesting for a few days.
About a week later I received an email to say that the buyer had pulled out and did I want to buy the Fleetstar at my bid price? I made a decision without consulting my wife and bought the bike. I remember going home that night and telling Margaret, I had bought something on eBay and had saved loads of money! 'You haven't bought another motorbike… have you?'
Another week and the bike arrived. I was not disappointed as it was every bit as good as in the photograph. Mechanically it was sound and it seemed this would be quite an easy restoration. I decided to put the bike back into police uniform. According to the log book the bike was originally purchased by Gwynedd Constabulary and it was then transferred to North Wales Police in 1974 when forces amalgamated. In 1976 it changed hands again going into the ownership of Gwynedd County Council Highways before falling into civilian hands two years later.
In November 2005 I visited the bike show in Birmingham on behalf of the LMM. I came to the Bikesafe stand and one of the people manning the stand was Paul Cheshire, a police motorcyclist from Conwy. During the conversation the Fleetstar came up and he promised to go back and try to trace some of the bike's history.
After the show I returned home and scoured the internet for bits to put the bike into police trim. Handlebar fairing, Craven panniers, fire extinguisher; all came to hand quite easily. I have since acquired a solo seat, and a set of leg shields – the hardest thing to find was the radio.
Then came the most exciting development. Out of the blue I received an email from Paul. He had found a retired policeman, living in Penmaenmawr, who had been the recipient of the bike when it was purchased new by the police. Also attached was a picture of the bike and rider in 1969!
| | | |
| --- | --- | --- |
| The bike now has blood in its veins, provenance, as they say on the antiques roadshow. | | Random BSA stuff on eBay.co.uk |
PC 107 Joseph Heddwyn Jones was serving in Llanberis at the time. I have spoken to Heddwyn and he tells me that there was a problem with tourists parking and obstructing Llanberis pass.
It was decided that to enable a police officer to get through the traffic to the obstruction a motorcycle was needed. PC Jones was the only officer at Llanberis with a licence to drive a motorcycle so it became his task to patrol the pass.
This was in the days before fixed penalty tickets and he was issued with a supply of specially printed forms requesting the drivers of offending vehicles to present themselves at the police station to be reported for causing an unnecessary obstruction.
Heddwyn explained that he first took to two wheels on a Francis-Barnett. 'A 175cc Francis-Barnett was delivered to Llanberis Police Station. It had been used at country stations in Denbighshire, and had indeed seen its better days. Eventually the time came for the Francis-Barnett.
The new machine turned out to be a BSA 250cc Fleetstar, fitted with a fibreglass fairing, legshields and a rear carrier accommodating a Pye radio with a long aerial. There was a small loudspeaker on the handlebars and a handset attached to the petrol tank with which to communicate.
'It was an absolute Rolls Royce compared with the Francis Barnett.
'To ensure that use was made of the motorcycle during my days off, Constable R Mervyn Owen attended a motorcycle course and passed his test.
I well remember one hot day, Mervyn parked the bike on its side prop on rather soft tarmac. The consequence was that the bike fell over, slightly damaging the rather fragile fibreglass fairing.
Fearing punishment for causing damage to the bike we decided to approach John Trevor, a young man who had just opened his own business at Hafod Garage in Llanrug, and ask him if he could carry out a repair which would appear as if it had never been damaged. This he did to a degree beyond our expectations and may I add, free of charge!'
In 1972 Heddwyn was transferred to Conwy. The bike remained at Llanberis.
After talking to Heddwyn I discovered another link. In the late sixties I was involved in Cadet Training and every month we used to go to North Wales and stay at Plas Gwynant. We travelled to Wales in two police vehicles marked 'Surrey Constabulary'.
We had contact with the local police and Heddwyn can remember seeing these vehicles on his patch and talking to the drivers. Although I don't specifically remember him, we may have met all those years ago.
We hope that Heddwyn will be able to attend one of the LMM's events, when he will be re-united with the bike and hopefully ride it again.
---
Advert

Enjoy more RealClassic reading in the monthly magazine. Click here to subscribe.
---