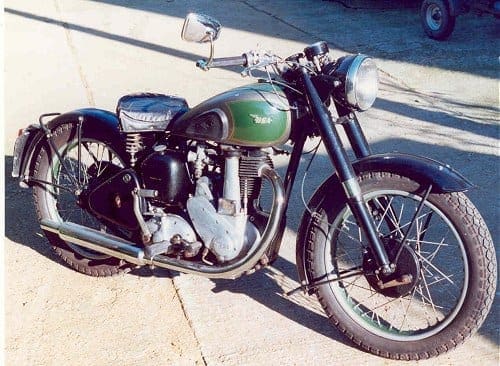 Fancy a challenge? RealClassic Clubman Graham (Man Of Many Doughnuts) certainly did. He bought a single cylinder Beesa as a bit of a restoration project. Actually, it turned out to be quite a lot of a restoration project…
To look at the gleaming machine in this picture you'd never think that it spent an awful long time as boxes of bits – but before its rebuild this B33 was last taxed in 1963. Whatever happened back in the 60s wasn't good, because the 499cc ohv single was taken off the road, taken apart… and then, eventually, forgotten.
That's something of a shame because, although they were never going to light any great fires, the rigid B33s were handsome machines – and they weighed a fair bit less (350lb) than the later plunger and swinging arm (420lb) models. Says Steve Wilson: 'The understressed engines, with their modest power output, were long-lived if a shade uninspiring. They were very reliable, easy to start and good handling at all available speeds. Faithful plonking is the B33's line.'
The B33, for those of you not so familiar with it, was the big brother to BSA's post-war B31. The B31 ran 71mm x 88mm engine dimensions while the bigger bore B33 headed toward the nearly-square 85mm x 88mm. The 500cc bike gained a wider rear tyre, heavier flywheels and a larger inlet valve but was otherwise much the same as the 350. Then there was the B34 – a competition machine with high ratio gears, which spawned the DBD34 and the legend that is the Gold Star. But back in 1949 or so, the 23bhp rigid B33 was, like the B31, welcomed for its light clutch, smooth top-gear getaway, tuneful exhaust note and sensible price. These bikes were, according to Owen Wright; 'good looking, well balanced and they performed with spirit.'



Frank-The-Editor agrees; 'These rigid singles have all of the style. They steer very well and are generally more lively than the later bikes. However they can have rather feeble brakes and the suspect lighting that I always associate with dynamos.'

However, for new owner Graham, lighting was the least of his problems. We've often said that restoring an old motorcycle is hard enough – trying to restore one which has been dismantled by someone else is really tricky. Rebuilding a bike which has been in bits for decades – run away! And Graham's B33 was; 'absolutely stripped. Even the mag dyno rating plate had been removed! The mudguards were moth-holed, all the paint was completely gone, as were the saddle and speedo.

'We hadn't the faintest idea what we were doing as we'd not built a bike before. It would have been better not to start with a basketcase like this – it took a month to find out what we'd bought! There was a bucketful of fixings which, with all their various threads, took ages to sort.'

That's why the rebuild took some four years (not too shabby; Graham; we've spent longer on bikes and they've not come up looking anywhere near as good as yours…) to complete. The B33 breathed once again this summer, after a gap of four decades and a complete nut and bolt restoration. The purchase price as boxes of bits was £650; but Graham paid out another £1850 on top of that to get it into trim.






BSA B-series stuff on eBay.co.uk
Graham did all the assembly and wiring himself; Sean Hawker at CMES did the mag/dyno; James Whieldon did the wheels; and plenty of other folk helped with spare parts and information. Graham particularly recommends the CMES solid state voltage regulator (cost £49), and an M20 saddle and speedo purchased from Stuart Brays (£80). But he struggled to fit pattern mudguards from Burton Bike Bits; 'the front needed much fettling and the rear was the wrong radius for this bike – but a hassle-free refund was negotiated.'
The Devon Red paint scheme was carefully colour-matched to the original tank, and the finishing touch was to reclaim the original number from the DVLA. Finally… it's a runner!
Graham seems pretty pleased with how it's all come together: 'I'm impressed that it works at all!' he admits. But he's also happy with the way the bike rides, and likes 'its handling, the low down torque, and the riding position.'
The Beesa is inevitably going to be a work-in-progress; 'it will probably need a rebore at some time as a plus-40 ring in a worn plus-20 bore isn't ideal! And the gearbox is notchy – I have a spare so may fit it sometime,' but Graham seems pretty happy with it right now. In fact, he likes it so much he might get another — if this one disappeared overnight then he'd look for 'a swinging arm, alternator, later 50s version of the B33.'
Hope you get plenty of good rides on this one first, Graham. See you at the doughnut stand!
People To Speak To:
Sean Hawker at CMES, electrical services:

[email protected]
Kidderminster Motorcycles, BSA spares: 01562 66679
Stuart Bray, military / BSA specialist: www.stuartbray.bsa.btinternet.co.uk
Tony Etheridge, tyres for classic vehicles, Watford: 01923 231699

Ebay advert: Useful?
---
Advert

Enjoy more RealClassic reading in the monthly magazine. Click here to subscribe.
---