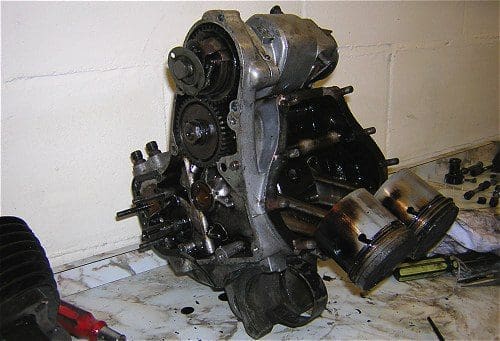 We left Shaun Gibbons with his A10 stripped-down, and awaiting a complete engine rebuild at the hands of a kindly Geordie named Mike. Enter the engineer…
Christmas had been and gone, and my wait for engine parts and services was nearly over. Newman Cams said 'come and get it', so I did. Next on the list was BLR Engineering; the chap was off on holiday in January so I guessed he would do my work before he left. This guess for once proved correct. The money changed hands and my engine bits with the new parts attached were now in the boot of my car.
Then it was off to that Geordie for him to finish getting all the other bits we needed for the rebuild. Now, what with Mike being an engineer and an old bike owner (and you should see some of them bikes!), he's a tad fussy when it comes to engine building. If he don't know how the part was made or what the stuff that part was made from, then it don't go in. So this takes some investigating which means more time. It was a little frustrating for me, but then I suppose Mike is correct and I'm not one for arguing.
Take, for instance, the conrod bolts. Yes, you can get them — but are they up to the task? After a couple of weeks Mike found a place that could tell him what metal the bolts were made from, and this made him happy so they were sent for. The trouble was that no nuts came with the bolts! They promised the nuts would be sent next day.



Finally we reached the point I'd been waiting for. All the old parts which were worn out had been replaced, and any bit of the engine which was worn had been built up and ground back into the original size. Due to my incompetence and work commitments I was only there holding spanners for Mike (also it was a question of logistics, what with him living 150 miles from me), so I left it to the great man, in whom I have TOTAL faith.

At last, he told me that the bike would be ready soon. I would soon be on my way to Lincolnshire to hear that wonderful sound as my A10 came back from the dead, although the month I had to wait for the final call was a very long month indeed. But finally I received a phone call from Mike.

'Listen to this' he said and in the background I heard the familiar sound of a bike being kicked over. Then the engine burst into life. HOORAY! My A10 lived again!

Mike came back when the noise had settled. 'Second kick lad,' he said, and then he told me how it started first kick in the morning. He'd checked over everything and topped up the fluids and then he couldn't wait to phone me with the sound. Just like a big kid he is — and I now can't wait to drive up to Lincolnshire to collect it, I'm an even bigger kid!
So, what was wrong with it after all those miles? The defects Mike found included:-
1. Cylinders found with excessive wear, pistons and rings heavily worn.

2. Valve seats pitted as might be expected.

3. Connecting rods heavily bruised.

4. Big end shells worn just into copper layer.

5. Crankpins worn to maximum allowable tolerance.

6. Drive side main bearing worn.

7. Timing side main bearing worn.

8. Drive side main journal worn- roller bearing had be turning on the shaft

9. Timing side main journal worn.

10. Sludge trap suspected to have been incorrectly fitted.

11. Sludge trap 70-85% full.

12. Camshaft worn excessively.

13. Cam followers worn excessively.

14. Camshaft bushes worn.

15. Idler pinion bushes worn out.

16. Exhaust push rod broken.

17. Magneto auto-advance unit fibre wheel found with broken teeth.

18. Magneto bearings and oil seal found worn out.

19. Clutch found rebuilt with incorrect clutch centre.

20. Clutch chain wheel found badly worn in way of tang guides.

21. Devimead pressure plate bearing found worn out.

22. Primary chain found partly disintegrated.

23. Gearbox main shaft bearings found worn out.

24. Gearbox lay shaft bearings found excessively worn.

25. Gearbox casing faces found with numerous defects.

26. Gearbox sprocket worn.
Phew! That's what he found, and that's what he sorted.
So now I have a new engine and a bike to be proud of. Once it's run in then the world will be my lobster. I also have plans to loan it to Wayne Johnson of the BSAOC New Zealand . He'll be riding it to the German international this year. All was looking fine, until…
But wait — what's this? After just 60 miles the engine seized!
This turned out to be the timing side bush, which didn't have enough clearance! Another stripdown from Geordie Mike, a bit of reaming and the bike's as good as new. It was my fault really as I was pushing him to sort it out in time for the John Bull rally in Belgium. We both thought thinner oil might sort the bush out, but this guess was wrong. You shouldn't rush these jobs and it's a lesson learned.
Luckily for me I'm a member of the BSAOC — Mike has now no time to put the engine back into the frame, so Malcolm Folwell from Kent branch is doing the job for me. No good me doing it as I'd only mess things up! While Malcolm gets the engine in, Pat Daly from the same branch will put in a new set of wires. He's a sparky by trade and a sprint champion by hobby.
The offers of help I've received from the club have been unbelievable, it's like a great big family. They know I've been missing my bike and they all seem to have shared my anxiety, either that or they've volunteered to help to stop me from whinging!
Well, that's enough from me. I've got an A10 to run in…
If, like Shaun, you don't fancy tackling a major rebuild yourself then your first port of call should be the BSA Owners' Club. They'll point you in the right direction and offer heaps of expert and experienced advice: www.bsaoc.demon.co.uk
Running In Advice?

---
Advert

Enjoy more RealClassic reading in the monthly magazine. Click here to subscribe.
---