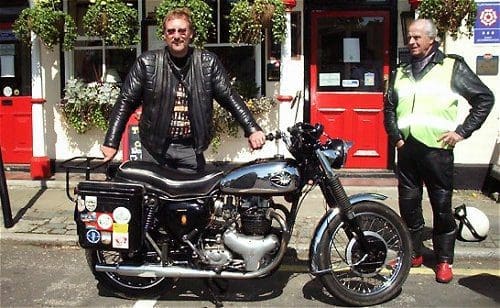 Shaun Gibbons (AKA the Kent Correspondent) covered over 40,000 miles on his Beesa, and knew its engine needed some serious attention. With the help of other BSAOC members, that was just what it got…
It all started about six years ago. I owned a B40 which would always get you there but NEVER home again. So I did a deal with a chap from the BSAOC Kent branch (of which I'm now the secretary), and his A10 was mine.
Then I found out he'd had all sorts of problems with the 650, which everyone kept quiet about until I'd done the deed. So I waited for the inevitable, and waited. And waited. But the bike was running sweetly and everything worked.
So after the first year I decided to venture forth, and took it to the Scottish international, the French international, the Dutch international and the Italian international, with a trip to Land's End and a few trips over to Belgium. All in all, 40,000 trouble-free miles. Yes it did break down once but this was sorted by the roadside; it was the locknut on one of the tappet adjusters which had worked loose.
Whoops; forgot to mention all the BSA weekend camps we've been too as well! It was at one of these camps that I met young Mike Cheyne, a multiple bike owning Geordie, and a very competent engineer to boot. We started to ride together as he then lived in Hemel Hempstead, a short blast round the M25 for me. He asked me what oil I was using. When I told him I bung in cheap supermarket 20/50 he started to turn purple. He then told me loads of stuff about oil and molecules and wouldn't stop!
So I said; 'All right then, when the engine goes bang you can strip it down to have a look.' That was two years ago. Then he said — why wait for it to go bang? So we agreed to open it up last October no matter what.
As Mike is a Geordie living away from Geordieland, and I'd never been there, we both decided to go when the North East branch of the club had their weekend near Morpeth in September 2003. What an excellent camp and what a wonderful place. Not an industrial wasteland as I've been told, but beautiful countryside and great people. After the weekend we went to visit that Fairy of the North and made our way home.
At Biggleswade it finally happened.
BANG!
The engine stopped running and wouldn't start. So I said to Mike; 'it's all yours, bonny lad.'
By now Mike had moved to a tiny village in Lincolnshire near Boston, so the bike was trailered up there. He has a wonderful double garage with workshop attached. I helped with the stripdown as I wanted to know how it's done (I'm as silly as a box of frogs). What we discovered was that the engine had stopped because the fibre gear wheel on the magneto had lost some teeth; lucky because the engine was so worn out that it would have blown up in a few miles anyway. The clutch was hanging by a thread; the primary chain had lost its bearings. They were in the chaincase and the chain was still intact.



The crank needed a grind, the camshaft and followers were shot. All the bushes were also worn out; the bore was bigger than the pistons. The magneto was only just sparking, and the gearbox was only just doing what it does! All in all it added up to a completely worn out engine and gearbox. The sludge trap was bursting at the seams with the crud it had collected over the years, and all this with just the filters BSA had originally provided.

Mike said; 'I divvint knaa how it ran for soo long, bonny lad.'

So the search was on for someone to sort out the worn bits. I found an old boy called Fred Cooper in the village of Vigo, Kent (just up the road from me) to sort out the mag. Turns out he had done the very same mag in 1978! Then the search was on for someone to do the engineering (Mike can do it but doesn't have the machinery). We found a place in Surbiton called BLR Engineering, so off I went with the engine cases and barrel and a new set of pistons, plus a list as long as your arm for the work required.

I didn't have a camshaft so, as I've heard horror stories about soft cams, I found a place in Farnborough to make me a new one, Newman Cams they're called and that's all they make: camshafts.
All was going well… then Christmas turned up and people, well, they have a habit of going on holiday around then.
So with the engine stripped and parts left with specialists, I was left waiting…
Need help with your Beesa?

If, like Shaun, you don't fancy tackling a major rebuild yourself then your first port of call should be the BSA Owners' Club. They'll point you in the right direction and offer heaps of expert and experienced advice: www.bsaoc.demon.co.uk
---
Advert

Enjoy more RealClassic reading in the monthly magazine. Click here to subscribe.
---