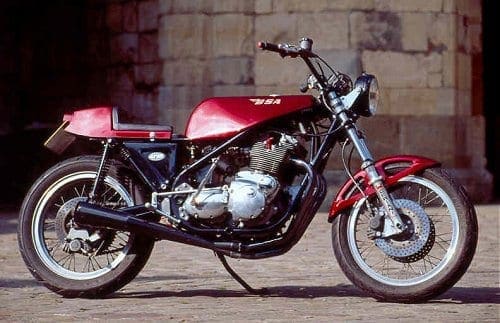 Photos by kind permission of Simon Everett
Back in 1998, Dave Minton met a very special 750 flat-tracker. The triple was rebuilt from a wreck that had been abandoned in the Mojave desert. It certainly gave Dave the ride of a lifetime, although he still complains about the — lack of — saddle to this day!
Tony Page, as anyone in the Trident & Rocket 3 Owners' Club will tell you, is one of their most active members. He was also Editor for a long while of the TR3OC's superbly informative and entertaining magazine, Triple Echo, which is also one of the most technically literate club mags in production.



In the very early 1980s Page, to use his own phrasing; 'was trawling the USA for Fury and Bandit parts' (the poor soul suffers from a strange and singular obsession), when 'I came across a mangled wreck which might have been a Rocket 3.'

Here Tony has understated the true situation somewhat. It was not quite that simple at all. In truth he had played detective and followed up a vague local rumour concerning a smashed and unidentifiable 'funny sorta foreign bike' in a shed in the Mojave desert. He took it to his aunt's house in San Jose, where the mangled pile lay for three years awaiting who-knows-what. Aunty finally lost patience and Page, questioning his sanity, shipped the mess home with 'vague notions of restoration back to original Rocket 3 spec.'

It was missing a great many essentials and kitted out with weird gear: 19-inch wheels front and back, an American Barnet front wheel sans brake, foam-wrapped ignition coils, a huge selection of rear wheel sprockets, no left side footrest, rear brake pedal on the right, magnesium Mikuni carbs, a set of big-bore cylinder barrels.

By this time — 1983 — Page had learned that the strange frame, which was so badly bent that its left loop had to be completely replaced, was in fact a genuine Rob North item. Few people then knew anything about Rob North and his frames. Except for Miles Engineering, who by this time had purchased the rights to Rob North frame production. They, like Page, imagined that they had in their hands one of the 15 or so works Daytona racers which had been bastardised and then wrecked by someone who knew no better.






Rocket stuff on eBay.co.uk
So to Page's instruction Miles Engineering 'returned' the bike to its 'original' specification including a Screen & Plastic race fairing, clip-ons, 18-inch rear wheel and all. For 10 years the proud owner scratched his racer around, well, let's just say here, there and everywhere, including a few track days and a trip to watch the Le Mans 24 hour race. To his surprise, there at Le Mans, Page's Daytona triple attracted the sort of adulation among spectators that a GP MV Agusta or Honda six would over here.
During this period of its life, the BSA triple proved time over time against shocked adversaries to be a motorcycle of unsurpassed power and speed. 'It would out-accelerate anything, had terrific torque and would manage a genuine 150mph.' I was told dark deeds of mythic stature which I swore, alas, to never reveal. But be sure, be very, very sure that in the 1980s precious little could be found to get more than a brief sniff of burning rubber left behind by this ex-Daytona works racer-with-no-lights-on.
During his decade of stoical suffering while relentlessly chasing the glorious cause of purism, Page had learned a lot, the most important of which came through Don Emde (US Champion and BSA/Triumph Daytona racer). A couple of the Daytona triples had been converted into flat-trackers. They had retained all the road racer fundamentals and enjoyed only minimal modifications. This was one of them!
When you talk to Page it becomes clear that the revelation of the flat-tracker origin arrived as something of a relief to him. 'I'd been fighting a losing battle with no steering lock or lights. I decided the time had come for proper flat-track guise.'
The engine went to P&M for refurbishment and the adoption of a more usable state of tune. A set of standard 30mm Mk 1 Concentric carbs, standard pistons and T160 cams tamed the beast, although a black chromed, free breathing siamesed exhaust into a Tony Osbourn silencer with 'P&M internals' (best described as employing 'peripheral' baffles around the megga's outlet) released measurable extra power. Rather than fit an oil cooler, Page relied on the heat dispersing qualities of a large aluminium tank alone, to no detriment whatsoever — it runs cooler than average.
Ignition is by Boyer. A set of 35mm Ceriani teles support the front end and Konis the back. Braking is by lightweight Lockheed calipers on standard T160 discs, and both wheels are now 18-inch.
So there you have it. A truly great and rare triple, dedicated shamelessly to speed, that has somehow survived and thrived into an age of fat mewling cats. From the saddle, the flat-tracker was nimble to say the least; as eager to duck and dive as one of Meriden's 490cc Daytonas but with a seemingly limitless reservoir of power from which to draw, and muscley brakes to tame it.

This, being one of the early 'High Boy' frames has a steering angle of a mere 26-degrees and, in combination with genuine flat-tracker wide bars, gave the thing quicksilver handling characteristics at the lower end of the scale. In this respect it was almost too good, urging me to try a degree more with every bend. Yet it was backed up by the legendary frame wrought by Rob North. So unlike many asphalt-bound off-roaders whose come-hither handling is usually compromised by extreme-speed vagaries, this flat-tracker did indeed track flat and true at its top end. Its only limits were my own, set by nightmares of overcooking it. Top speed? Well, from conversation with Page approximately 125mph seems very likely.
Unfortunately for the Daytona Beezumphs they earned notoriety around the US flat tracks, and little more. As far as is known four were modified — two Tridents and two Rocket 3s, of which two employed the hallowed American trackmaster frames and two were little more than sawn-off Rob North-framed road racers. Far less than the unsuitable power characteristics usually quoted, their failure on the dirt was mainly that of the poor handling resulting from a high gravity centre because of engine width and associated ground clearance requirements.
Besides, Meriden by that time was producing the T140 750 twins and they were tickety-boo around the hard, rutted clay ovals. This 750 triple used a suspension system which is definitely recognisable as coming from the last generation. Stiff. Not unyielding, wholly capable of dealing with whatever turned underwheel, but stiff. Just as you'd expect from springs and damping without progressive action. The front wheel once or twice pattered lightly on the crank over ripples — which could easily have been a result of tyre type or pressure. But who's counting? This is a unique super-sport motorcycle a generation old, yet as stunningly impressive as it is possible to experience.
Page, ever loyal to his bike's minimalist spirit, had equipped it with a Krober rev-counter and that was all: mirrors are for people who expect to be overtaken and idiot lights are for riders of that ilk. Right? It carried neither fuel warning light, fuel level visibility nor reserve — after all, racers don't, now do they? I rode 75 minute maximums between refils. Anxiously.
The triple cog-chopped well, more cleanly without the clutch than with. But it exhibited the sort of high-frequency harmonics more usual among old British sports 650s. I got 'white-finger' in many anatomical areas, which lasted for weeks, from the Beesa's thrumming. I bet Gary Nixon or Gene Romero never did…
Still, for all its bloody-minded flaws this asphalted flat-tracker won my heart. It was finished like a jewel, spartan in its simplicity, and what a pedigree! What a tribute to the dedication of Tony Page, its owner. And what a fine demon to ride.
The Trident & Rocket 3 Owners' Club: www.tr3oc.co.uk
---
Advert

Enjoy more RealClassic reading in the monthly magazine. Click here to subscribe.
---