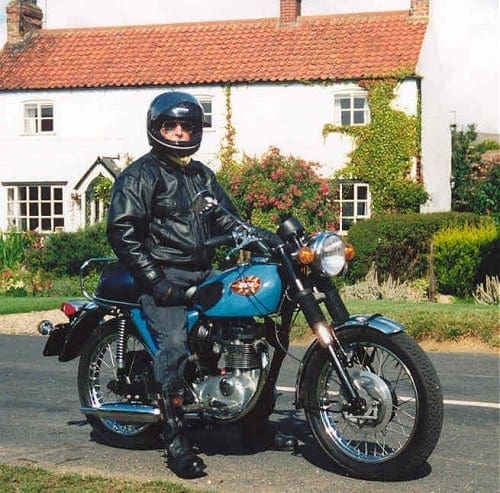 Owners of old British bikes are not biased about their machines. Most certainly not. They know all about the bikes' good points — but no one is ever particularly shy about coming forwards with the bad news, too. It just happens that in the case of Ted Richardson's 1969 Starfire there is very little bad news to pass on!
Ted bought the bike in 1987 in what Ex-Editor Westworth would describe as 'big bits' — a recon engine and a rolling chassis and a lot of boxes. It cost £70 to purchase in that state, and then Ted spent the next year completely rebuilding it. Total cost? About £1000 (that's a grand spent over a decade ago, remember. We never said that this bike restoring lark was cheap, now did we?).



Since then Ted has covered around 27,000 miles with his little Beesa, and he's come to some conclusions about the Starfire's reputation for fragility.

'In normal circumstances it's quite happy to cruise at speeds of up to 60mph but attempts to travel faster result in a lot of noise and vibration, and the exhaust is quite loud. The Starfire does not like town work and the suspension is crude by modern standards. While it's comfortable on smooth roads, it appears to be under-damped so machine and rider suffer on rough surfaces.' See — no punches pulled here!

In general, though, Ted is more than happy to recommend the 250s of this era: 'The Starfire's styling — with its chrome guards and sculptured petrol tank is excellent. Spares and specialists are plentiful, so go out and buy yourself some fun!'

'Many of the problems which occur with these bikes are owner-inflicted.,' he reckons. 'I've yet to experience any major problems, only minor faults such as a flooding carb caused by using a home-made gasket. A blown fuse was due to an internal short within the horn. But none of these faults ever stopped me getting home — the reliability of these bikes reflects the care with which the machine has been treated.






250 BSA stuff on eBay.co.uk
RECOMMENDED MODS
Fit handlebar switches and indicators from OiF models to earlier bikes.
Change oil frequently; ideally every 1000 miles.
Hagon shock absorbers stiffen up the back end tremendously.
Oil filter conversions are viewed as well worthwhile.

PEOPLE TO SPEAK TO
Bri-Tie Motorcycles; spares. 01558 668579.
Fair Spares, Staffs. 01543 278008.
Hagon Products, for shock absorbers. 0208 502 6222.
Burton Bike Bits; 'best for parts and give an excellent service.' 01283 534130.
---
Advert

Enjoy more RealClassic reading in the monthly magazine. Click here to subscribe.
---