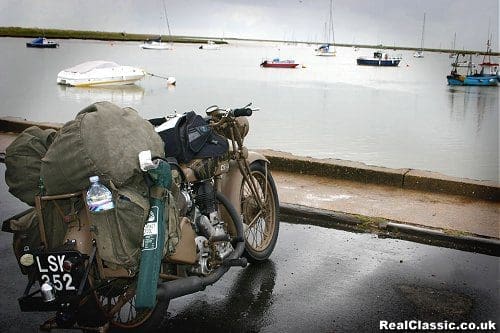 Over the last year, Paul Grace (aka Anarchy) kept a diary of his motorcycling life aboard Royal Enfield motorcycles. His travels included country fairs, bike nights, the Himalayas and more, and all these adventures appear in his new book…
Those expecting the memoirs of a young revolutionary will be disappointed – the author is not young and does not have a beard! He has, however, had many years of riding motorcycles, which has resulted in a rich tapestry of experience and strong views on many aspects of life.
Like so many in recent years, he became a Royal Enfield enthusiast via the purchase of a Bullet, as a 'cheap run-a-round', because of its simplicity and low running costs. That was the start of the slippery slope to his current collection, consisting of Redditch singles spanning the period 1942 to 1959. All of these are ridden regularly and the experiences, during the course of a year, are described in these diaries.
Many of us, like the author, are drawn to autojumbles and motorcycle shows, to purchase items that we are unlikely to use and to view motorcycles that we have seen before. We are reminded that they are also a useful opportunity to meet old friends. The social and educational benefits of the regular motorcycle meeting, and refreshment, at a traditional transport cafe are not ignored.
The author clearly enjoys the freedom of riding by himself and his descriptions of what you can find within your own locality, if you are prepared to make a bit more effort, could serve as an inspiration to many of us. However, as many of us have found when in an unfamiliar area, riding in the company of somebody with local knowledge can result in a much enhanced experience. The chapter on riding Royal Enfield singles in the Himalayas provides a fascinating example of this.
The benefits, to the rider, of riding twelve months of the year are extolled, as are those, to the classic motorcycle, of being used on a regular basis. This does mean, during the worst of the winter months, using a motorcycle dedicated to this purpose – the 'Winter Hack'. However practical it may be, not everybody will share the author's enthusiasm for 'olive drab'! It will come as no surprise that the author considers a restored classic motorcycle that is not run to be without life.



The comments arising from the use of a Davida 'pudding basin' helmet are interesting. Those of us who ride classic motorcycles, many of which are happier at lower speeds than the majority of today's traffic, are aware of the benefits of wearing a helmet that allows you to hear what is happening around and, particularly, behind you. The importance of this is emphasised in the author's experiences of riding in Indian traffic.

The chapter on fettling describes the discovery, on fixing a visible problem, of the previously unseen problem of a cork quill seal breaking up. It is a reminder that 'out of sight, out of mind' is not an appropriate philosophy where classic motorcycles are concerned.

There is a useful collection of 'pin board' notes, scattered throughout the narrative at appropriate locations, which provide pointers for those seeking more information. While most of these consist of Internet addresses, the occasional postal address and/or telephone number is also included.






Bullets on eBay.co.uk
An interesting, entertaining and informative read, with a varied and interesting collection of photographs. It should bring back memories for some and inspire new rides and projects for others.
Reviewed by John Dyke
—————

198 pages perfect bound. Price £9.95p

Available from www.greenlane.biz
Search for books and magazines on
Ebay.co.uk
---
Advert

Enjoy more RealClassic reading in the monthly magazine. Click here to subscribe.
---