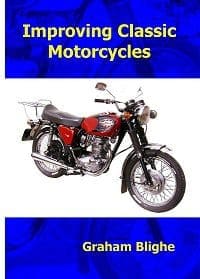 If you'd like to develop your spannering skills somewhat, then Graham Blighe has written the ideal book to help you get the best from your old bike…
Graham Blighe is a qualified mechanical engineer who also happens to have mis-spent the last 30-odd years mucking about with motorcycles.
His shed currently houses a 1969 BSA Bantam B175, a 1970 BSA Starfire, a 1966 Triumph 3TA (with the engine modded to Tiger 90 spec), and a 1973 Triumph Daytona 500. These machines have given him plenty of opportunity to hone his spannering skills, improving the bikes to make them as usable as their modern counterparts.
'Improving Classic Motorcycles' is a compilation of Graham's experiences – missing out most of the experimental stages and reporting the solutions which have worked for him on his old bikes during their working lives as daily transport.



This book is not a marque history, workshop manual or restoration guide, but instead is a collection of modifications, tips, tricks and sound advice. This means that you won't have read the content before in any of the standard marque histories – Graham has described his tried-and-tested upgrades, not simply regurgitated the usual list of 'posh bits to fit'.

The modifications are directly relevant and useful for the bikes which Graham owns, but most are applicable to similar British post-war classics. All can be carried out in the home workshop, and you can have fun adapting Graham's solutions to suit your own particular problems. Many of Graham's modifications cost nearly nothing to do and will take an average mechanic a matter of hours to complete with very few (if any) special tools required.

The subjects covered in this volume include: giving sls brakes more stopping power; improving the reliability and performance of your bike's electrical system, getting the best from an ignition system (be it electronic or points), setting up Amal Concentric Mark1 carbs; sorting out your exhaust (and why baffles are important and you really shouldn't just throw them away!); reducing leaks from cylinder heads and rocker boxes, plus more general advice on clutches, gearboxes, tyres, steering head bearings and other topics.

As some folk will already know, I am NOT entirely mechanically minded. Great at breaking bikes; less wonderful at fixing them again. So it should be encouraging that I found Graham's text very easy to follow and usefully illustrated by photos and diagrams to demonstrate a point. The writing is clear, waffle-free and uncomplicated, and mercifully it is not infected with baffling technical terms or incomprehensible instructions. There's no 'now simply rebuild the engine by reversing step 12 to 324' nonsense here. I'm even tempted to have a crack at the front brake upgrade…






BSA single stuff on eBay.co.uk
There are moments in the book when Graham makes a suggestion and the reader needs to understand that it is ONLY a suggestion and not an outright recommendation – such as his musings on modifying inlet manifolds to improve the airflow.
Graham wonders if taking his existing modification a stage further might produce a greater effect, but doesn't have a spare manifold to monkey around with so freely admits; 'It may be that the original design gives better performance in other areas than high speed… better economy or better low speed response.'
So if you want to take up the challenge then I reckon he'd be delighted to hear of your results!
Even if you don't intend to work your way through all of the modifications included in this hundred-page 10″x6.5″ book, you should find it an interesting read and discover at least a couple of hints which will improve your classic motorcycling. Every chapter contains a few throw-away suggestions, almost scattered about in passing, which could gently enhance your enjoyment of your old bike. For instance, if you ride long distances on a twin carb bike, with the throttle held open for extended periods, you might want to swap to a single carb or use softer throttle return springs to ease the stress on your wrist. There's a minor change in performance, sure, but it could make a major impact on your life with your bike.
'Improving Classic Motorcycles' is only available online, as it is published via Lulu.com and each copy is printed upon order. This means you can read some sample chapters online and get a feel for the style and substance of the book.
If you don't like tinkering with your bike at all and just want it to fire up first prod, needing nothing more than its tyres pumped up, then it is hard to see what you'd gain from 'Improving Classic Motorcycles'. If, however, you enjoy doing routine maintenance and have had some successes with replacing worn out parts or upgrading to modern components, then you should find plenty to interest and benefit you and your riding. In some cases the easy answer to Graham's quandaries is simply to throw away the old component and fit a modern, new part instead – but there's almost always a way to get the best out of the old kit, involving a little thought and spanner-wielding, and that's what this book is about.
Reviewed by Rowena Hoseason
——————-
'Improving Classic Motorcycles' by Graham Blighe is published via Lulu.com and costs £13.95. You can buy a copy at: www.lulu.com/improvingclassicmotorcycles
Preview 'Improving Classic Motorcycles' here: www.lulu.com/browse/preview.php?fCID=1844368
————-
Search for books and magazines on
Ebay.co.uk
---
Advert

Enjoy more RealClassic reading in the monthly magazine. Click here to subscribe.
---