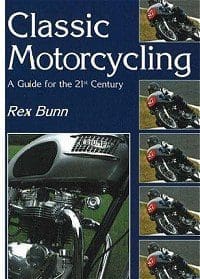 This book offers a different look at classic motorcycling, one with an international flavour. Steve Wilson has read it, and reports…
The author Rex Bunn is an Australian and he writes like one, with energy and laconic wit. He's a fifty-something inventor (Bunn crankcase breathers, feedback gauges, modified grips, etc) and author, with his own classic restoration company, who likes Club life, long distance rides, and BSA unit singles 'for no clear reason'.

Following a charming nostalgic intro from the great Aussie racer Hugh Anderson, Bunn gives a gracious acknowledgement to Frank Westworth's still-in-print book 'The British Classic Bike Guide'(reviewed here), and then heads squarely for today's issues.
Some stuff is fairly perennial, like selecting a bike to suit your needs and physique (he's realistic enough to include Harley's Sportsters), how to check them out and where to find them ('Fossicking' is Oz for networking/rummaging). The local prices are converted into pounds sterling, which helps.
The section on the buying process is very good, as Bunn leads with a detailed study of a Triumph TRW 250 single he considered buying, and elaborates on the process of inspection, with pros and cons,
which finally led him to turn it down.



If the useful chapter on licensing, insurance and registration should seem too mundane, the following one looks at the more spiritual notion of 'Bonding With Your Bike'.

The excellent quotes at the head of, and within, the chapters show that Bunn is a widely read, thoughtful man. It's hard to dispute the conclusion that what generally differentiates classic from modern riders is that for the former, maintenance is a positive goal. It's also interesting to learn that research shows that Born Again Bikers in Britain range from 30 to 65 in age – hope for the future, already!

The key element to classic biking's appeal is nailed as 'Flow', involving 'concentration so intense that there is no attention left over to think about anything irrelevant'. I think most of us would respond with recognition to that description, and it's good to have it articulated and considered further, and think about how bonding happens because 'the bikes are interwoven with extraordinary life events'. Tell it to Anneka the A10!

One of the best quotes (from The Odyssey?) sums up the reliving of youth through classic riding: 'And tho' we are not now that strength which in the older days, moved heaven and earth…[but] that which we are, we are.'

There's equally telling analysis of riding patterns, again spiced with personal reminiscences of Bunn's Sixties riding (in one case, inadvertently onto a railway line!) on an Ariel Huntmaster (he was clearly a discerning chap).

There's a very interesting analysis of helmet choices, as well as other useful kit – including the 'Bangkok Dunny' (that's loo), 'a zip-lock bag taped to the leg, with Penrose tube joining your old fella', to avoid public toilet stops in front of gridlocked Thai motorists!

Clothing, maintenance, and classic bike riding, including very long distance rides, are treated with the same mixture of detailed scrutiny and pithy anecdote.




Amazon Classic Bike Books


Amazon Classic Bike DVDs

You will, I think almost certainly learn something new and interesting. I know I did, as well as experiencing recognition in the (tolerant) description of those classic riders who, while active, have no interest in things mechanical, though 'in love with the "idea" of classic motorcycling … they romanticise motorcycling, and can achieve great things for the benefit of their colleagues, except when it comes to maintenance … (they should) seek out a bike notorious for its reliability…' Like an A10? I was blushing.
On his detailed analysis of classic bike survival rates and patterns, and of the way values for the classic Triumph Bonneville have changed annually since 1981, as he writes, 'what matters is not the analysis, but the answers they give classic bike riders, (how) these charts and tables let riders see their pursuit from fresh angles.' The same could be said of this most engaging book.
Reviewed by Steve Wilson

'Classic Motorcycling: A Guide for the 21st Century' by Rex Bunn is a paperback of 277 pages with 125 photos, ISBN 978-0-9547912-8-5. It's available from Panther Publishing at £14.95 and if you buy via this link then you'll contribute to the RC site at the same time…
————–
Search for books and magazines on
Ebay.co.uk
Search for similar books on Amazon:
---
Advert

Enjoy more RealClassic reading in the monthly magazine. Click here to subscribe.
---