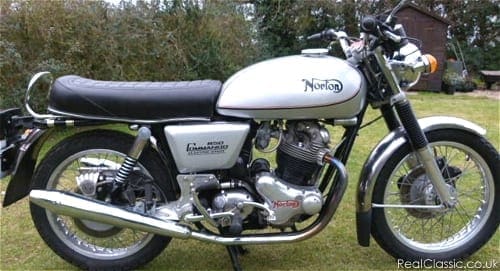 British Bike Auction Results
Over £1.4 million was spent on classic motorcycles at the Bonhams auction at Stafford last month. The highest bid was, inevitably, for a Vincent Black Shadow, but we were watching the prices of some more down to earth classic British bikes…
Looking through the sale results from the Bonhams auction at the spring Stafford Show, it's obvious that there's an unusually broad spread of prices. At one extreme, the bidding seems to have gone bonkers for some not particularly special motorcycles. At the other, some highly desirable old bikes have been sold for a song. There's two possible and obvious explanations for this. First, the condition of the bikes in the metal tilted the bidding in either direction – it can be truly hard to establish values from a photo and even the most detailed description.
Or second, the world has gone mad.
Consider the Norton Commando. There were four Commandos up for grabs in this sale. Typically, a roadworthy Bendy sells for between £6500 and £8000 these days (less for private, more for dealer, etc). So when the first Commando of the quartet, a recently serviced 1975 Mk3 Interstate, sold for £7475 including extras that seemed to be spot on market value.
Then an hour later, a 750 Fastback – normally considered to be rather more sought-after than the lardy Mk3 – went to a new home for £5520. OK, so the Fastback had been off the road and would need a service. But how did that make it worth £2000 less than the Mk3?
The plot thickened when the bidding on the final two Commandos failed to reach reserve, and neither of them sold. One had cast wheels and a strange saddle and also needed putting back on the road. Again, it's difficult to understand why no one was tempted to pay £5k and turn a quick profit.
Especially when the next Norton under the hammer was a featherbed Mercury, one of the final incarnations of the Dominator. And yes, we know we've been telling people for years that the single-carb Mercury is by far the nicest of the Dominators – but even given our massive worldwide influence, £6900 still feels like top value for an end-of-line model which was sneered at for years as a parts-bin special.
Then there's the perplexing matter of the 650 twins. In general, when you stand a BSA 650 alongside a Triumph 650, it is the latter which will sell for more money. But not this time.



Two twins from the early 1970s went under the hammer a fortnight ago; a 1972 TR6R Tiger and a 1971 A65T Thunderbolt. Both single-carb, both oil-in-frame, both conical hub front stopper. Both also needed registering and recommissioning.

The BSA, however, featured an engine and frame which hadn't started life together – they were both from the same year but made their acquaintance sometime after leaving the factory. The Triumph was fitted with peashooters.

So you'd expect the Triumph to fetch 50% more than the BSA. Right?





A-series BSAs for auction on ..

More eBay old bikes below

Wrong. The A65 sold for £3565 while the TR6 went for £2875. Somehow, the BSA was worth 25% more than the Triumph in this instance. OK, the BSA had an export petrol tank rather than the dull (practical) UK one. Is a petrol tank worth £700 suddenly?
Or was it especially hot in the sale room?
As you might understand, this haphazard bidding has played merry hell with our pre-sale predictions and we seem to have done rather worse than Radio 4 does with the daily racing tips. However, we'll review the outcomes for your entertainment…
This 1972 example was rebuilt in 2001. Catalogue estimate was £2000 to £3000. We said: 'a similar B50MX is up for private sale at £3500.'

SOLD for £4370.
Triumph Trophy Trail 500
This 1974 machine has never been restored, dry stored, recently MoT'd. Catalogue estimate between £3000 and £4000. We said: 'a similar machine sold on eBay for £4100 recently and another is up for grabs in France at £4750, so if there's a full sale room then this one could run to £5k.'

SOLD for £4140
AJS Model 16
A bitsa Ajay 350 single made up of a 1950 motor with a 1956 springer frame. Catalogue estimate £400 to £600. We said 'more than that would be too much indeed.'

SOLD for £747
Royal Enfield Meteor Minor Sports
A 1960 model in Sports trim, ready to ride with MoT. Catalogue estimate £1800 to £2200. We said; 'it'll easily make 10% on top of that, and the right buyer might pay £3k for it.'

SOLD for £1725 (sob. Should've been in the saleroom…)
Norton Model 50
A 1957 pre-featherbed 350 single was sold in big bits. Catalogue estimate £1800 to £2200. We said 'featherbed examples fetch big money, between £4000 and £6000, but this one is probably worth around half that.'

SOLD for £2990
BSA A10 Golden Flash
A restoration project which last ran in 1982. Catalogue estimate £2000 to £3000. We said 'that looks about right.'

SOLD for £2300
Velocette MAC
This 1947 model sports our favourite combination of rigid rear end and Oleomatic tele forks. Catalogue estimate £1900 to £2500. We said 'four grand is a distinct possibility.'

SOLD for £2300 (sob. Again)
Ariel Square Four
A 1955 4G Mk2 with four-pipes and a recent rebuild. Catalogue estimate £4000 to £6000. We said; 'it looks to be seriously under-valued. If the bidding stops at less than £10k then we'll be amazed.'

SOLD for £7475 (we are officially amazed)
Arton Special
A combination of Ariel Square Four engine and Norton featherbed frame. Catalogue estimate £7000 to £9000.
SOLD for £7475 (hang on. How can a special, even a very nice one, be worth as much as an original?)
And if all that isn't quite weird enough for you, here's one final thought to keep you awake at night. How much would you pay for an Ariel Leader? A grand is quite enough, yes? Well, indeed, one 1963 example sold for £805 in this sale. It was described as 'partly restored' which might have been stretching a point; 'partly destroyed' might have been almost as accurate. Anyhow, someone loved it enough to cough up £805 for it.
But there was another Leader in this auction. A 1965 Leader, original and unrestored and loaded with all its optional extras such as panniers, bumper bar, indicators, parking light, 8-day clock, rear carrier and sidestand. Hadn't been on the road for five years so would need the usual recommissioning. And how much did one happy bidder pay for it?
Sit down.
Prepare yourself.
£3450.
Nuff said!
—————
The Bonhams autumn Stafford sale of important pioneer, vintage & collectors' motorcycles and related memorabilia is on Sunday 20th October 2013 at the Stafford Classic Bike Show. For full listing nearer the time, see:
Words: Rowena Hoseason Photos:
—————
---
Advert

Enjoy more RealClassic reading in the monthly magazine. Click here to subscribe.
---