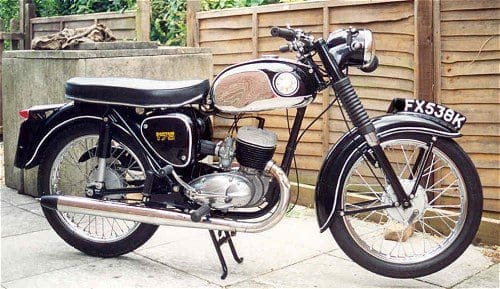 Inspired by the world's fastest Indian, Woodie explains that you don't need a big bike to go fast. In fact, he knows of some really fast Bantams…
In no way discrediting Burt Munro, the New Zealander of the world's fastest Indian fame, I wonder now if the film industry will travel to that other Antipodean outpost, for credit must also go to the Australians in their quest for speed. It was the Australians who recognised the potential of the humble BSA Bantam, loved by British commuters and the Post Office for telegram delivery.
Bantams always excelled at off-road competition, thanks to their light weight and peppy performance, but it took a special interest to consider tuning these small capacity 2-strokes for the track. The low cost of the Bantam helped, and spares were likewise cheap and easy to source, so it was a natural choice for the new 125cc racing class in the UK. Bunny Armstrong ran his Bantam at Silverstone in 1949 and convinced his chum George Todd to join in – more of him later. Meanwhile, back on the other side of the planet…
Eric Walsh was a prewar racer who sustained a bad injury and then turned to the Bantam for racing development in the early 1950s. In 1950 he developed the little 125cc powered bike for racing on road and across country. Over six years his Bantams won most Australian contests. In 1952 Maurice Quincey rode a Walsh-tuned Bantam home to first place in the Australian TT, and he repeated this feat in 1954.
An Australian scrambles rider Ken Rumble won the 500cc Victoria scramble with a Bantam, seeing off all 500cc singles and latest OHC twins competition. Later in the 50s, Bill Lomas and Dickie Dale — Moto Guzzi works riders — were invited to ride a Walsh-tuned Bantam and went through the 100mph mark on a number of times. The Walsh Bantam was thought to be the fastest 125cc powered bike in the world.
In 1957 Eric decided to have a go at getting his name in the Australian speed records. His fully streamlined Bantam managed to reach 115mph before ignition troubles prevented higher speeds. And this is the bike which Walsh had developed from a cheap runabout and GPO Telegram Boy's mount!
The little rooster wasn't standing still in the UK either. In the Isle of Man Ultra Lightweight TT of 1951 two Bantams finished the race, ridden by L Caldecutt who finished ninth at 56.30mph, and CF Salt — also 125cc Bantam mounted — at 52.50mph he finished 13th. Apparently Caldecutt's Bantam had too rich a mixture and was peaking at 4000 revs instead of the usual 6000rpm. A year later, H Williams on another Bantam covered the 113 miles at an average speed of 58.03 mph, finishing seventh. The next year a Bantam at 57.17mph brought HR Jones home to 12th place.
The champion in the UK at the time was George Todd who spent lots of his time and money developing the Bantam. He wrote a book in the mid 1950s entitled 'Boost Your Bantam.' George was an expert rider of his own Bantam, but tuned bikes for other riders. One such racer was Fred Launchbury who had a shop in Raynes Park in London, selling Bantam racing gear. In 1967, on an ex-GPO Bantam fitted with George Todd's equipment and tuned by him, Fred was to come in 20th at an average speed of 73.9mph in that year's 125cc Lightweight TT.
| | | |
| --- | --- | --- |
| | | Bantam stuff on eBay.co.uk |
In the 1960s, the Bantam Racing Club was formed by South Londoners mainly from the Wimbledon MCC. Unfortunately this did not stir Small Heath — the BSA factory showed little interest. They did produce some items specifically for competition Bantams – like some close-ratio gearsets – but the factory was more interested in their bigger bikes. Yet the Bantam Racing Club carried on competing for over 20 years, with racers doing their best to overcome the Bantam's inbuilt limitations. You'd be amazed at what they did to get more gears out of it – bolting two gearboxes together to give five workable ratios…!
And of course, you'll still see some Bantams in action, taking part in the CRMC and VMCC classic race championships.
---
Advert

Enjoy more RealClassic reading in the monthly magazine. Click here to subscribe.
---