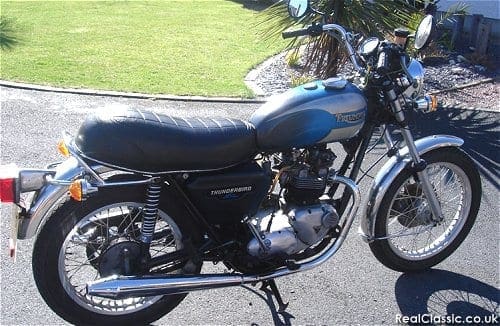 Looking for a winter project? There's a few good candidates going under the hammer in the next couple of weeks…
Online auctions have their attractions – not least that there's something for sale every single minute of every single day – but physical sales still have their advantages too. If you turn up early to an auction then you'll have a chance to kick some tyres and inspect the paperwork before you wave your placard and commit your cash. Photos don't always tell the full story; pretty paintwork which looks lovely on screen may peel off with stern language and a hard stare (ask us not how we know!). And it's mighty tricky to check if all the gears engage or if the engine turns over freely when you're looking at a listing that's about to expire…
So that's probably why the classic bike auction scene remains pretty healthy in the UK, despite recession and feverish online activity. There are two such sales coming up in the next week, in fact. Both are on Saturday 12th September 2009, but in very different parts of the country.

Triumph Thunderbird

The bidding starts at the first sale at midday, at Randalls Town Business Park, Antrim in Northern Ireland. Viewing is from 9am with a variety of classic bikes and cars; many of them likely to sell for sensible money should you be looking for a 'starter' classic or just plain old-fashioned cheap wheels to run around on. The star of the sale is likely to be a twin-port 1939 Ariel 500cc Red Hunter which is completely restored and boasts a very handsome matching sidecar. Another Ariel is a 1953 plunger NH 350 – a robust model which should give sterling service – while a 1959 Francis Barnett 150 is described as being in 'nice original' condition. The Triumph Thunderbird pictured here should attract some attention, too…


Suzuki GT750

If your tastes lean further towards the Orient then you'll have several chances to out-bid your rivals with a selection of two-stroke and four-stroke Japanese Classics from the 1970s. There's a 'good condition' 1979 Suzuki SB200 twin, a GT380 and its bigger sibling, a GT750 with twin discs and showing 35,000 miles. True screaming stroker enthusiasts may be tempted to bid on the RG250 Gamma, while the more down to earth bidders will aim to win the Honda CB750K for sensible money.


1977 Vespa 150

Fans of smaller machines can choose between the odd Honda 70 and a Cyclemaster, while someone might opt to buy the 1977 Vespa 150 scooter which comes with a pile of parts towards its restoration. Folks looking for summat a little more up to date can inspect the Suzuki GR650 'Tempter', a Kwacker GPZ500S twin, or a flying brick Beemer.
You'll find more details about other lots on the ClassicBikesandCars.com website – there may still be time to enter your bike for the sale. Call 0845 258 1830 for more info, and for details about how to bid if you can't make it on the day.
The second sale takes place as part of the Beaulieu Autojumble at the National Motor Museum, also on 12 September 2009. This time the bidding at this Bonhams auction starts at around 2pm (there will be a sale of automobilia earlier in the day, with cars following after the bikes). There are a couple of dozen high-class classic motorcycles in the catalogue so far, although we reckon there's still some scope to bag a bargain, especially at the scruffier end of the market.


1953 Francis-Barnett 197cc Falcon

For instance, a 1953 Francis-Barnett 197cc Falcon is expected to sell for less than a grand. This bike was restored in 2007 and is in 'generally good condition' although its MoT expired last month.


1920 Hobart

If you fancy something rather more rare and have more cash to splash, then take a look at the 1920 Hobart. We've featured Hobart machines before, and this particular one comes with some interesting history. It was discovered in the late 1990s as a barn find and has subsequently been restored to 'catalogue specification.' It's estimated to fetch around £3000.



The bidding is likely to be busiest for another 1920 machine, however, a BSA Model E with its very own sidecar taxi.



1920 BSA Model E with sidecar taxi


The 770cc machine used BSA's first V-twin, and this outfit spent several years during the 1920s in use as a hackney carriage in Birmingham. The outfit has been with a VMCC member since the early 1970s who restored it to taxi trim, complete with meter!






More BSAs on
The outfit comes with plenty of supporting paperwork and is expected to sell for around £20k. Our guess is that the bidding may well drift higher than that: this is a one-off, and although many private owners would like to try it for a chuckle we bet that the museums will be bickering over who gets to polish it…
A full list of the motorcycles for sale is available at Bonhams.com and you'll be able to view them on the day at Beaulieu. Don't forget that as well as the admission fee to the event itself, there is very often an extra charge to enter the auction area. Call 0870 027 3616 for more info.
---
Advert

Enjoy more RealClassic reading in the monthly magazine. Click here to subscribe.
---