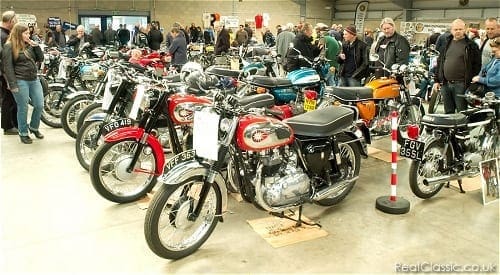 South of England RealClassic Bike Show Preview
If you're joining us at Ardingly on Sunday 12th October 2014, then you'll find plenty to admire and enjoy at the South of England Showground. Here's our list of Ten Things not to miss…

There will of course be hundreds of classic bikes on display inside the heated halls, but if the weather is fair then you'll find just as many magnificent motorcycles parked up outside. These come and go during the day, but normally 11am is a good time to take a stroll around the hard-standing outside the main hall to check out what's been ridden to the event.
Win A BSA!

The BSA Owners' Club always puts on a good display, and will be represented at Ardingly by the club's East Sussex and Kent sections. The star of their show will be one classic you can possibly win; a blue 1971 BSA B25 Starfire which is being raffled by the club. We don't know how much tickets cost or when the draw will be made (maybe it's a secret?), so if you'd like the chance to win this 250 unit single then make sure to seek it out at the Show.
White No Sugar

Look out for RealClassic's editor, Frank Westworth, who will spend all of the morning anxiously patrolling the massed ranks of old bikes which have entered the official concours displays. He'll be clutching a clipboard while he tries to decide which machines should be awarded rosettes and trophies in a dozen different categories. It's an anxious time (there's always the possibility of being lynched by disappointed entrants) so you can help him out by supplying caffeine (coffee; white no sugar) at appropriate moments…
Hands Free

If you have ridden to the Show then there's no need to carry your crash hat around with you all day. Pop over to the Stockman's Building where the Royal British Legion offer a helmet park where they'll take care of your kit in exchange for a small fee that goes to RBL funds.
Halls Of Fame

The Show is spread among five different halls and there are further outdoor stalls scattered around the surrounding area at the South of England Showground, so make sure you find all the club displays, bikejumble, trade stalls, clothing, accessories and spares for sale. There's usually a seating area in one of the smaller halls so you can take the weight off your trotters for a while.
| | | |
| --- | --- | --- |
| | | Bonza BSA Bantams on Now… |
Prize Guys

If you've entered your classic into the official concours displays then you'll need to collect a pre-prepared info sheet from the checking-in desk at the start of the Show. Attach that to your bike so that the visitors know what they're looking at. The prize-giving ceremony is normally held between 2.30 and 3pm so please don't remove your bike before then – and definitely make sure you're in the main hall at the end of the afternoon so you can collect your award. Even if you don't win your class, every entrant takes home a commemorative souvenir – so don't scamper off early!
Bikes To Buy

The classic motorcycles aren't just to admire from a distance: some will actually be for sale. There's usually a designated area where you'll find a row of classic motorcycles adorned with descriptions, prices and phone numbers. This gives you the opportunity to kick the tyres and make an inspection in your own time – maybe even nip off to the relevant owners' club and drag back an expert who can give you an opinion, and then you can negotiate with the seller knowing that it's a local machine so getting it home shouldn't be too much trouble.
Great Grub

There's always an excellent range of catering stands at this event, although they can get a little busy at lunchtime (so it's best to eat early or late to avoid any queues). Previous foodie choices have included a free-range hog roast (it wasn't free-range on the day, you understand, although that would've been entertaining), vegetarian treats, toasty sandwiches, proper coffee, an Italian smokerie, and even old-fashioned burgers in a bun for traditionalists.
Café Collectibles

The bikes on display range from a 1914 Triumph TT model – which you'll find on the Sunbeam MCC stand, and which set a speed record at the Brighton Speed Trials in 2012 for the fastest veteran motorcycle over a quarter-mile – and a 1979 Honda CBX1000. In between those two extremes are examples from every era and corner of the globe. The theme for this season's show is café racers, so we can expect to see plenty of clip-ons, rearsets and polished petrol tanks gleaming in the main hall.
Quids In

RealClassic magazine subscribers benefit from a discount off the standard admission price, (from £6 to £5), so remember to bring your RC Club card along and show it at the main gate. Then you can drop by the RC Roadshow in the main hall to grab a magazine binder, select an RC tee, renew your subscription or even ask Frank to sign his new book. Look out for Ace Tester Miles, too: PaulM normally brings Something Especially Interesting to this event which Paul-The-Destroyer then attempts to dismitigrate in an especially creative manner….
The South of England RealClassic Show & Bikejumble

Takes place on Sunday 12th October 2014 from 10am at the South of England Showground, Ardingly, West Sussex, RH17 6TL (M23 junction 10, sign-posted SOE / Wakehurst Place.)
Admission is £6 adults; £5 RealClassic members and seniors in receipt of state pension; kids under 16 free.
---
Advert

Enjoy more RealClassic reading in the monthly magazine. Click here to subscribe.
---