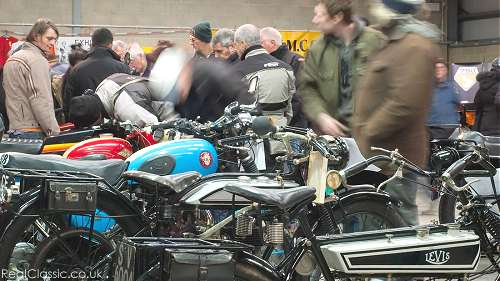 South of England RealClassic Show Preview
We'll be making tracks for Ardingly on Sunday 30th March and we'd be chuffed to see you there. Remember to show your RealClassic Club card at the gate, because magazine subscribers only pay a fiver to get in…
There are all sorts of birthday celebrations kicking off at Ardingly this time. The Sunbeam MCC is 90 years old in 2014 which means it's one of the oldest motorcycle clubs in the UK. Although it started as a marque club, the Sunbeam MCC long ago broadened its activities to embrace all pre-war motorcycles, and organises many sporting trials and other events. The club's best-known event is of course the Pioneer Run, from London to Brighton for pre-1915 motorcycles.
All pioneer machines are now at least century old (doesn't time fly when you're having fun?), so to celebrate that milestone there will be a themed display of 1914 machines at the Show. These include Dave Master's extremely rare Veloce, a brace of ex-WD Douglas, a TT model Triumph and a Roadster model Triumph. Continuing the veteran theme, Dave Masters will be signing copies of his new book, 'The Fiery Wheel – Ixion of the Motor Cycle', an interesting study of the life and times of one of our foremost early motorcycling journalists.


Look out for a display of motorcycles celebrating their centenaries, including this 1914 Triumph

Speaking of signed copies of brilliant books, make sure to stop by the RC stall if you're a fan of Graham Ham's adventures. Due to public demand, Graham's original Daisy's Diaries is once again available as a proper printed paper publication. You can buy an updated version as an ebook on all popular formats, but if you'd rather treat yourself to a 'real' book then the original 2005 hardback has been re-issued by Panther Publishing at £17.95. What's more, we will have some very special copies available at the Show.
This 186-page book includes 16 colour illustrations and tells of Graham's initial adventures in classic motorcycling, giving up the day job, buying an old bike and riding off into the sunset on a 1948 Triumph Speed Twin. It follows Graham's learning curve as he rode 5000 miles to win the Landmark Challenge, armed with little more than a compass from a Christmas cracker, a dysfunctional map and a random selection of the wrong tools. As you can imagine, everything possible went wrong but an awful lot of things went very right, too. We will have a very few copies for sale, each individually signed and dedicated by the author, and up for grabs at the special price of £15 to RealClassic magazine subscribers.


There'll be a whole lotta jumblin' going on at Ardingly in the separate autojumble halls, where it's also possibly to locate a jolly decent cuppa coffee

On top of all that, the South of England Show halls will be filled with club stands and private entries featuring several hundred classic bikes from all over the globe, built before 1980. Many of these are in regular use – heck, most of them are ridden to the event – which makes Ardingly a little different to most Shows. Editor Westworth will be judging the varied concours classes and keeping a beady eye peeled for a suitably splendid old bike which can claim to be the Best RealClassic of the day.
Last time out, the BSA Bantam Club took the prize for the best club display and the Norton Owners' Club have been winners before – there are usually a dozen or more club displays of an extremely high standard which makes judging this particular prize especially delicate. So if you see Frank looking frazzled, you'll know why!


[Left] The concours awards at Ardingly include some interesting alternative categories: this 1959 Ajay Model 31 outfit took the Best Heavyweight award last year. [Right] Here's owner Mole Benn having greatness thrust upon him by Rowena at last year's Show, as reward for his preservation of a factory MV Agusta GP racer

Once you've admired the bikes, look out for the hands-on expert demonstrations which are a new feature at this event. Steve Marks of the Magneto Guys and Dave Degens of Dresda Triumph fame will be sharing their practical expertise during the day. Don't miss the spares for sale, accessories, autojumble, memorabilia, bikes for sale and trade stalls in the other four halls, and outside if the weather is agreeable (there's plenty of parking on hard-standing ground so don't worry if it is inclement!)
| | | |
| --- | --- | --- |
| Organiser Mrs Elk (you can call her Julie, cos that's her name) and her happy team of helpers go the extra mile to host an event which we're proud to be associated with | | Classic Project Bikes on Now… |
There's usually an excellent range of high-quality refreshments on offer, and a helmet park so you'll have your hands free to deliver cups of coffee to the RealClassic stand. You'll find us in the main show hall, just inside the doors next to the lobby, with spangly new banners and a special offer for subscription renewals…
/ 01797 344277

What: The South of England RealClassic Show

Where: The South of England Showground, Ardingly, RH17 6TL, J10 off M23

When: 10am Sunday 30th March 2014

How Much: £6 adults / £5 RC magazine subscribers
—————
---
Advert

Enjoy more RealClassic reading in the monthly magazine. Click here to subscribe.
---