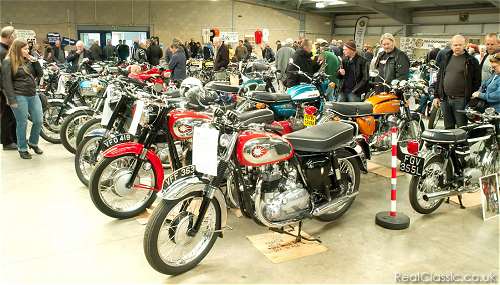 South of England RealClassic Show Preview
The autumn show seasons gets underway at Ardingly, where we expect to see hundreds of captivating classic bikes including an Atlas Scrambler, two MV Agusta GP racers, an original and unrestored 1920 Ajay and masses more…
The RealClassic Roadshow will roll into Ardingly for the South of England RealClassic Show on Sunday 13th October 2013. As you might expect at an event which we sponsor, an awful lot of bikes at Ardingly are regularly ridden – indeed, most of them are ridden into the show halls, bringing with them a spot of weather! And indeed, an intriguing array of pre-1980 classic bikes have booked in to this event.
Some of them have been recently restored, like the 1949 Triumph TR5 which has been owned for two decades and which took nearly three years to rebuild from the ground up. Others, a 1927 AJS 350 for instance, retain their oily-rag and unrestored appearance and only get mechanical attention when it's needed to keep them running.
That's definitely the case with Mole Benn's 1954 MV Agusta 203cc Grand Prix. Mole says; 'Restoration is absolutely forbidden!' This machine is one of only four developed by the factory to contest their first entry into the 200-250cc world championship in 1955… which they won. Not bad for a first attempt! And since then, the MV has more than proved its pedigree. 'It's been successfully raced by many top riders, this is the only example in private hands.' Mole also plans to bring a 124cc Grand Prix MV Agusta to keep the 200 company.
RC regular Anthony Curzon has wowed the crowds before with his Norton Nomads, and this time he'll be showing off his latest restoration, a 1963 Norton Atlas Scrambler, completed to Anthony's usual exacting and somewhat intimidating standards. The Atlas will be accompanied by a single-seat, high-pipe Norton P11, so aficionados of the hybrid desert sleds will be able to directly compare the pair (and debate the best method of affixing a sidestand…)
Meanwhile, there's a lot of fuss in the press about the new Royal Enfield Continental GT. At Ardingly you'll be able to inspect an interesting interpretation of the original model – a 1962 Crusader-based café racer 250. This is a Crusader Sports / Continental hybrid which is believed to have been built from a Crusader with a blown-up engine in the 1960s. The owners says it's 'great fun to ride, an interesting bike.'
We're also looking forward to seeing some new-old-bikes at Ardingly: classic motorcycles which haven't been entered into this Show before. We're promised an appearance by a 1937 600cc Douglas Aero; the last of the inline twins produced before WW2; a 1956 Ariel VH500; two Suzuki GT250s – being displayed by separate owners – and a 1946 Indian Chief.
The Chief was restored in 2001 by Starklite Cycles in the USA and then imported to the UK just this year. It's been extensively upgraded, the owner tells us: 'the motor has been uprated from 74 cu in to 80 cu in, compensator sprocket, 12-volt electrics, Bonneville internals.' Can't wait to see it in the metal!
All the pre-entered bikes on display will be scrutinised by RealClassic's editor, Frank Westworth (man with beard, clipboard, and air of mildly terrified concentration), as he tries to decide the worthy winners of the concours prizes.
Last time around, the Kawasakis did well in the overseas class when a Z900 and the turbo-charged Z1-R took the honours, while international marques also scored in other categories. An NSU Max picked up a prize in the lightweights section, while a 1939 Indian Sports Scout won the Best Heavyweight award. A prototype Scott was judged to be the Best Brit, with other prizes going to all kinds of pre- and post-war classics from Rocket 3 to Triton, Bantam to Tiger, Dominator to Francis-Barnett Falcon. The Norton Owners' Club scooped the hotly-contested club prize, while a well-ridden 1957 BSA Shooting Star took the RealClassic award.
The club displays and private entries are now distributed across two halls – the Queen's Jubilee Show Hall, where exhibitors will find the check-in desk and also the RC Roadshow, and the Stockman's Building, just across the way. Look out for displays by the VMCC, Sussex British Motorcycle OC, BSA Bantam Club, South London Classic MCC, Robinsons Canterbury MC, Norton owners, Mid-Sussex British MCC, Indian Riders, BSA owners, the AJS and Matchless mob and the Francis-Barnett folks.
| | | |
| --- | --- | --- |
| Overland adventurer Gordon May | | |
The five indoor halls host heaps of autojumble and trade stalls, with extra jumble overflowing outside. Overland adventurer and author Gordon May will be signing copies of his books; BHP Performance will be showing off both their range of performance parts for Hinckley Triumphs and their own motorcycles, which include a 1960 Bonnie, a Tiger Cub and an extremely cute T100 café racer, while Graffito Books will unveil their fantastic new book of outside bike art.
Doors open to the public at 10am on Sunday 13th October 2013. Admission is normally £6 but OAPs and RC subscribers can enter for a fiver (show your blue RC clubcard at the gate, please). You'll be able to leave your lid in the helmet park, and get your gnashers around some great grub, like local free-range hog roast, onsite bakers, toasty sandwiches and proper coffee. It's free to park your bike or car.
Contact organiser Mrs Elk if you'd like to take a garage clear-out stall, or bring a bike to sell. All at the South of England Showground at Ardingly, RH17 6TL. See
if you've prebooked entry to display your bike and have been sent a pass, but then discover that you can't bring your classic to the event after all, please let the organiser know (01797 344277) so that another bike can be given your place. This event is always over-subscribed and we know that old bikes can't always be relied upon! So please cancel a few days in advance if at all possible, rather than dropping out on the day. This gives the folks on the waiting list a chance to bring their bikes out to play, and means the visitors get to see full halls. Thank you!
—————
---
Advert

Enjoy more RealClassic reading in the monthly magazine. Click here to subscribe.
---