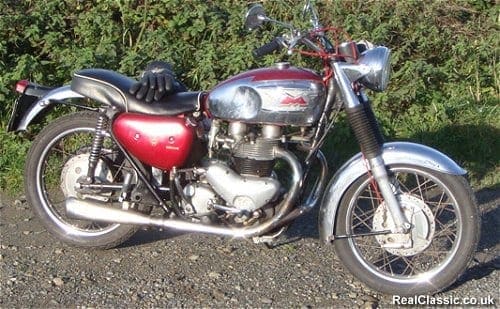 When it comes to living with classic AJS and Matchless motorcycles, a wise man might learn from his mistakes. Frank Westworth is plainly no wise man…
I've been trying to work out how many AMC twins I've owned over the years. And no, before you collapse in horror at the sheer self-indulgent time-wasting nonsense of such an exercise, it's because A Nice Man asked me how many I'd had. He is the current custodian of one of them, y'see, and when he wrote to me asking for info about it, I was forced to ask him which one it was, because there have been a lot…
Let's see. The first was 321 KUP, a 1961 Matchless G12 of fond memory which I destroyed on the M4 in 1972. Or was it 71? Who cares?
Then there was a whole horde of others, and sometimes, like now, I had more than one at a time. Occasionally one of them would work. For a while things got so bad that I rode a Honda. You didn't know that, did you? I've ridden two Hondas of my own, an XL250 and a CB750 K6. And ridden a lot more belonging to other sufferers, as well as owning several others which I never rode (I became depressingly proficient at rebuilding the top ends of 125cc ohc Honda singles while mistakenly believing that I could swan a profit out of this idiot enterprise).

1965 Matchless G12CSR

Even today, when you might think I'd know better, I cannot resist the things. I sold a really, really superb 1940s Matchless G80 to a friend (no idea why, apart from his repeated unsubtle suggestion that as I didn't ride it I might as well let him ride it), and bought instead a really fine 1966 AJS 31. Just like several others I've had, and everso stock, even down to a silly fat silencer and diamond AJS petrol tank badges. What a great bike. Just the one I'd been looking for and a bike I would keep for ever and ever.
So almost at once I sold that to a Friend (no idea why…). That was on a Thursday. On the next Sunday The RealClassic Crew had a stand at the old bike show at Malvern. A pleasant place, if muddy. And cold. An RCchum who I've known for years ambled over and offered me his 1965 Matchless G12CSR. Of course I agreed to have it. I've never owned a 65 G12CSR before. I've had (I think) four 63 CSR twins, maybe a half dozen non-CSR 64-on twins, but never this exact model. I even had the cash available because I'd just sold the AJS 31. How cosmic is that? Do not answer, please. This is a family magazine.



The snag was that the bike was in m'chum's remote Herefordshire boozer (yes; he has bikes and a pub, how entirely laudable) and I infest Cornwall. And the very idea of hitching trailer to Land Rover and collecting the collapsing CSR that way saw my wallet run screaming for the high cliffs. I mean, diesel is less frighteningly expensive than it was, but filling the tank for a trip of that magnitude would cost more than buying a running G2. Do you know, I've never owned a G2…

BUT! Have you heard of a device known as a 'bus'? It's like a big van with seats and carries folk slowly about the place at almost no cost. There's one of these odd contraptions running between Bude, where I waste my declining days, and Exeter, where there are even more strange devices known as 'trains'. Combine the two and I could get to Hereford for less than the cost of a tank of diesel. A lot less. And so I did.






AJSs old and new on eBay
I live in a strange world where I dream expensive dreams involving the discovery and acquisition of unrestored and original motorcycles. The CSR is not one of those. No. Not at all. Not even a bit. But it does have a history. This CSR was given away by the AJS & Matchless OC in 2001. Previously Proud Owner shared this unusual factette with me, and startled me by reminding me that I had in fact drawn the raffle ticket all those years ago. How strange is that?
I'd thought it was a pretty weird bike then, and it has not grown less weird with the passing of years and repeated application of m'chum's unusual approach to spannering. And so, equipped with platinum AA card and mobile telephone, I worked out that if I could get the thing running for a bit before it rolled to the side of a road and I called the AA to invite them to courier it and me back to what passes for civilisation in Cornwall, then hey; the Cosmic Delivery Service would have worked its usual magic, a magic I've not applied for several years.
And so, togged up to suit the icy bleak midwinter and to survive a couple of hours waiting for the AA to arrive and rescue me, I kicked up the clattering horror and rode off … all the way home. It missed not a beat. Despite its bedraggled demeanour, the old warrior proved to have the heart of a genuine old warrior, used only a sip of petrol and a drip of oil, and rasped its merry way to its new home.


1965 Matchless G12CSR, arrived safely in sunny Cornwall

Just like the AJS 31 I sold immediately before it, this CSR is plainly The One To Have. I shall keep it for ever. I shall ride it to all AJS & Matchless OC events. Never mind the effete and fragile charms of the electric-start Matchless G80; real men kick their bikes. Sometimes their bikes start. Sometimes real men go and kick the cat instead and weep into their cider because their bikes won't start. I know how it works; I've been around the apple tree a few times.
But get this. The CSR last changed hands on 24th November 2001. I became its new keeper on 24th November 2008. CSR? Cosmic Supply Roadster. AMC had all the answers, you know. And how many AMC twins have I actually owned? No idea. But this one will be the best ever and will last forever. Until the next one…
---
Advert

Enjoy more RealClassic reading in the monthly magazine. Click here to subscribe.
---