Hardcore classic bike enthusiasts, 21st century café racer aficionados and retro roadster riders converge on the historic Montlhéry circuit to make the most of the massive café racer festival. Frank Melling took his own Manx Norton along to ride in the wheeltracks of champions…
Battling down the Paris-Orleans expressway, nose to tail with kamikaze French commuters, there is no sense that you are very near to a motorsport legend. Leave the motorway, wriggle through a convoluted traffic calming system and then climb up a long, narrow, bumpy and completely unimpressive back road and there it is on the right – a massive wall of concrete which reaches for the sky. You've arrived at L'autodrome de Linas-Montlhéry – the legendary home for innumerable bike and car record breaking attempts.
The Montlhéry story begins with Monsieur Lamblin who owned the Lamblin Radiator Company which made rads for aircraft, so he wasn't short of a few francs. He had a chateau set in 12,000 acres, about 19 miles from Paris and conveniently near to the epicentre of the French motor industry. France was motorsport crazy but lacked a purpose-built circuit, so in 1924 M. Lamblin had 2000 workers toiling in two shifts from 4am to 10.30pm to construct a 1.58 mile long track in just six months, thanks to the use of pre-cast concrete sections.
The circuit featured two super steep banked corners joined by a pair of short straights. Later a Circuit Routier infield section was added to complement the Piste de Vitesse banked track.
Innumerable long distance world records were taken on the bumpy oval. The sense that the racing heroes of the 1920s and 1930s are walking alongside you permeates every pore of the circuit – if you know, or care, about the past.
Interestingly, this is what makes Café Racer Montlhéry such an interesting event. At one end of the spectrum there are the hardcore classic bike fans who really do ride the banking and feel the shivers down the back of their leathers as the ghosts of Bill Lacey, Wal Philips or Ray Amm roar past, en route to another world record. At the other end are the lifestyle aficionados who just want to enjoy some really cool style icons. In the middle, or maybe off to one side, are the retro fans who ride the Triumph twin range, Ducati Scramblers and BMW's ever burgeoning range of classic-inspired boxers.
What is surprising is that at the Café Racer festival all three groups seem to rub along with each other very amiably and this is no doubt the passion, and foresight, of the event's organiser, Bertrand Bussillet. 'BB', as he is affectionately known, was a journalist who reported on MotoGP and so he was well in tune with the very latest in motorcycling technology. However, maybe BB's heart lay in older, simpler machinery. He took the enormously brave step of organising the Café Racer Montlhéry festival.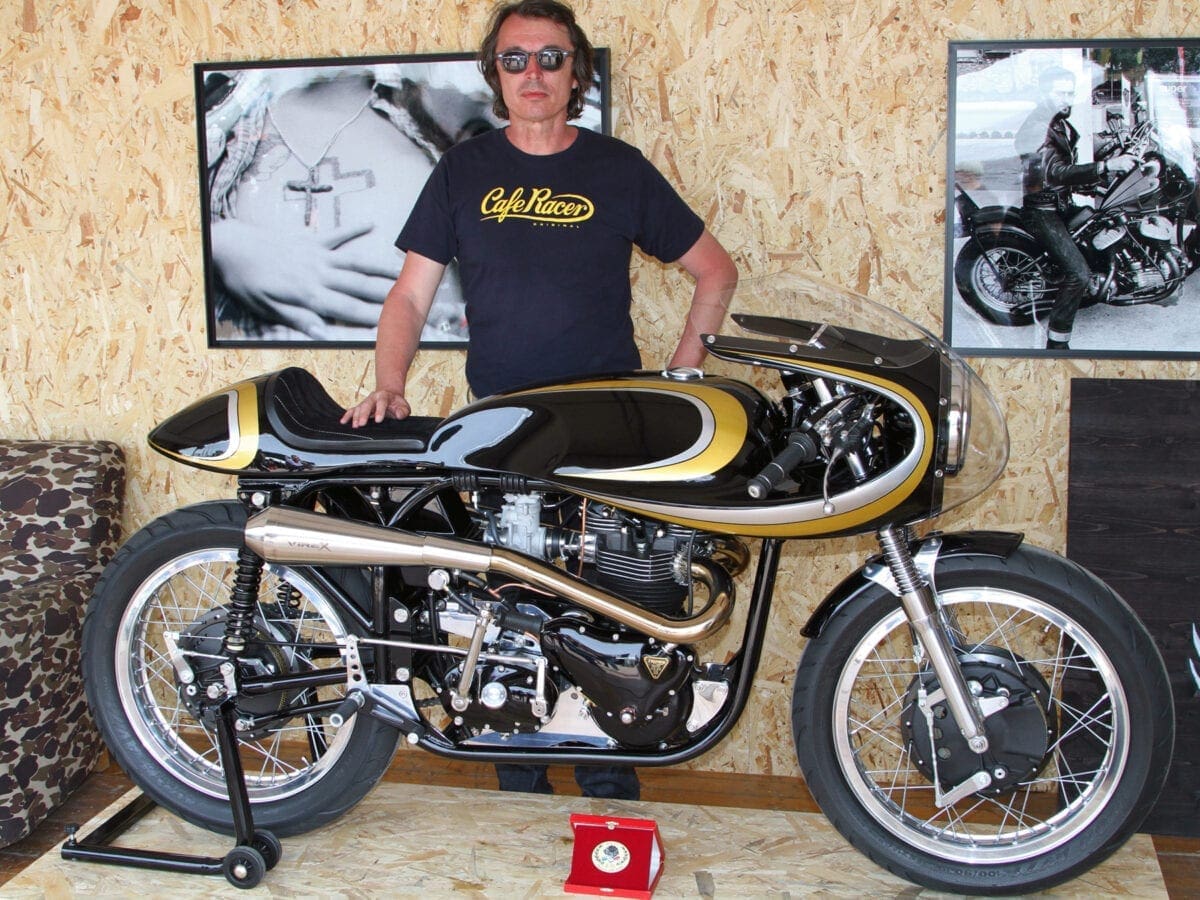 'I wanted an event for the café racer community. I didn't want it to be concentrated on just one part of the motorcycling world but instead an event which had great bikes and nice people enjoying them. Now, we have around 15,000 spectators and the track sessions are full too. We wanted the prices to be affordable so a weekend ticket only costs €22 and two days of track riding €180. These are very fair prices. It's hard work – but very satisfying, because I am reaching out to my own community.'
BB has reached out and with considerable success too. The event attracts old and young alike, although each generation doesn't necessarily appreciate the aesthetics of the other. What on earth possessed someone to paint a BSA Spitfire, one of the most beautiful bikes ever made, in what looks like Royal Marine disruptive pattern camouflage is completely beyond me!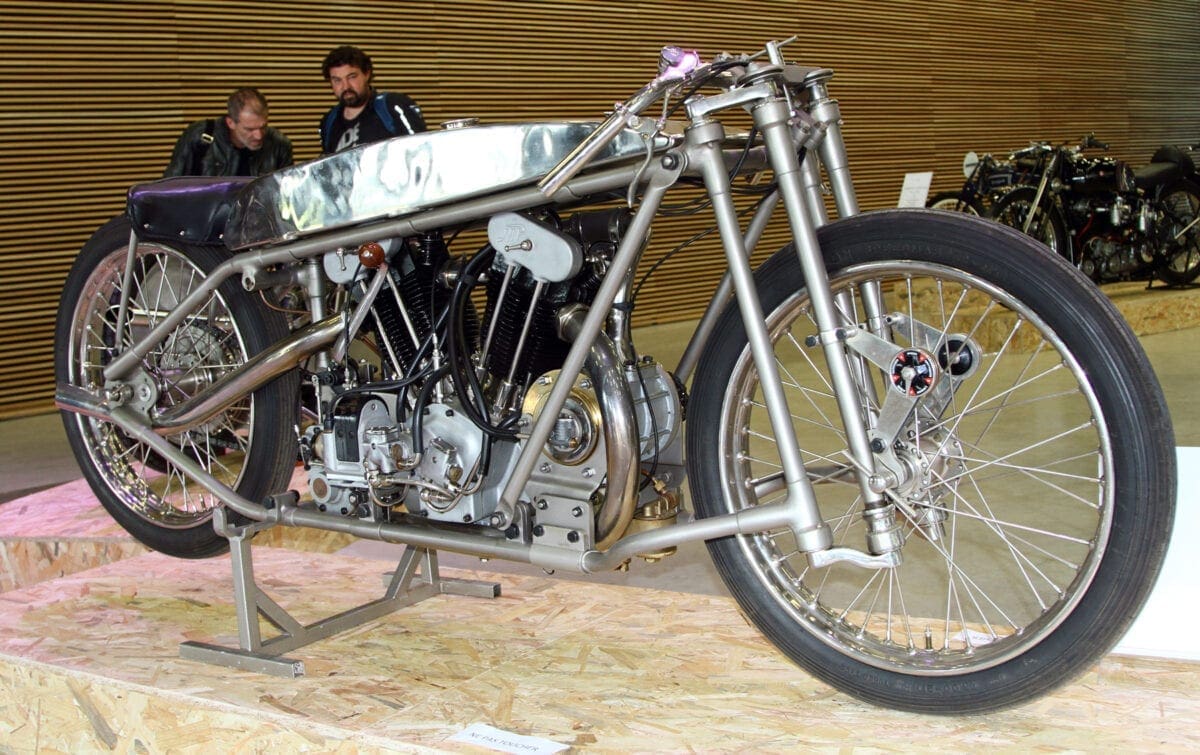 What did impress me was the fantastic display of record-breaking machines. I could have spent all day simply soaking in the aura of these magnificent motorcycles and standing in awe of their riders' courage. My favourite amongst the collection of motorcycling deities was Claude Temple's OEC powered by a 996cc supercharged JAP engine giving around 85bhp. Temple was the first rider to cover more than 100 miles in an hour at Montlhéry, in 1925 – and did so using a 3.50 x 21" rear tyre made from India rubber. I can only assume that Mr Temple not only lacked fear but any imagination either.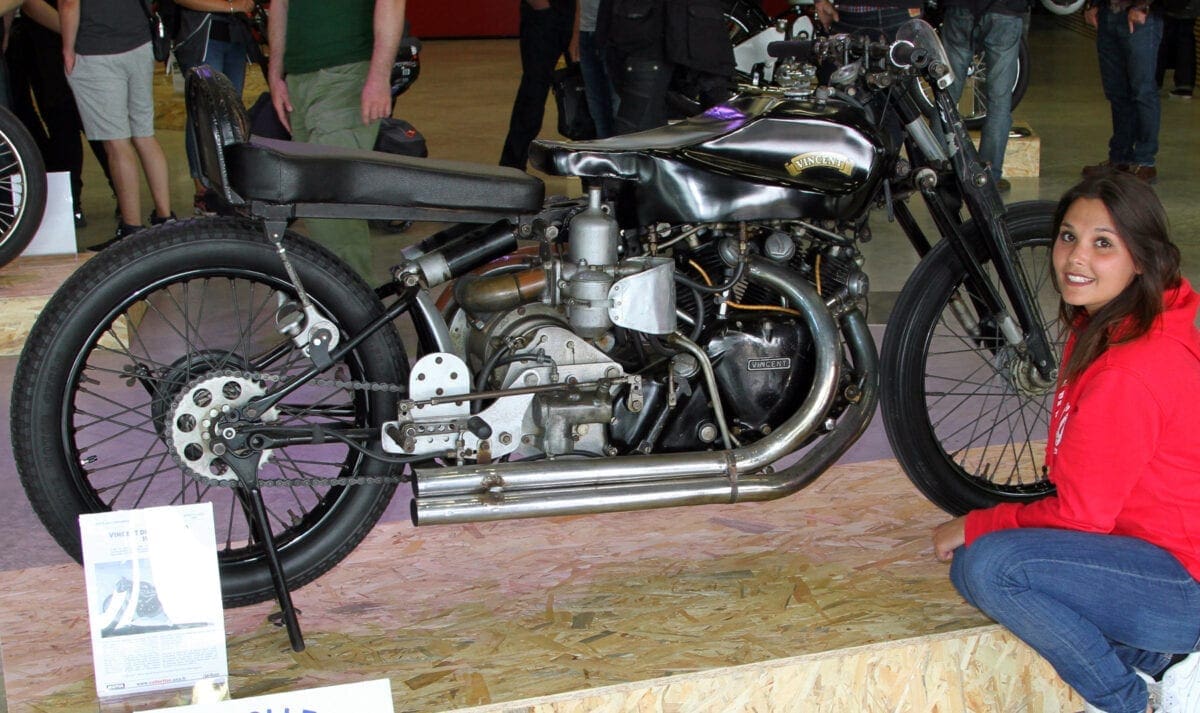 What was equally impressive was meeting Laura in the exhibition. She was young, female and not a hard core vintage fan – but she was fascinated by these old warhorses. Bringing fans like Laura into the fold is what Café Racer Montlhéry does very well, and this is the future. There were track sessions reserved for female riders and this is good too, so that we bring the widest range of new participants into classic / retro motorcycling.
However, I did have to smile at the Lifestyle areas. The latest big idea is something that stylists think a 1970s man-cave might've looked like. Having been in a number at the time, and escaping largely without catching any major infections, I can assure you that they didn't! The recreations include carpets on the floor and a range of sophisticated beverages. The furniture is immaculate and free of oil, tea or stains from amorous activities – all of which would have been very apparent in a 1970s shed.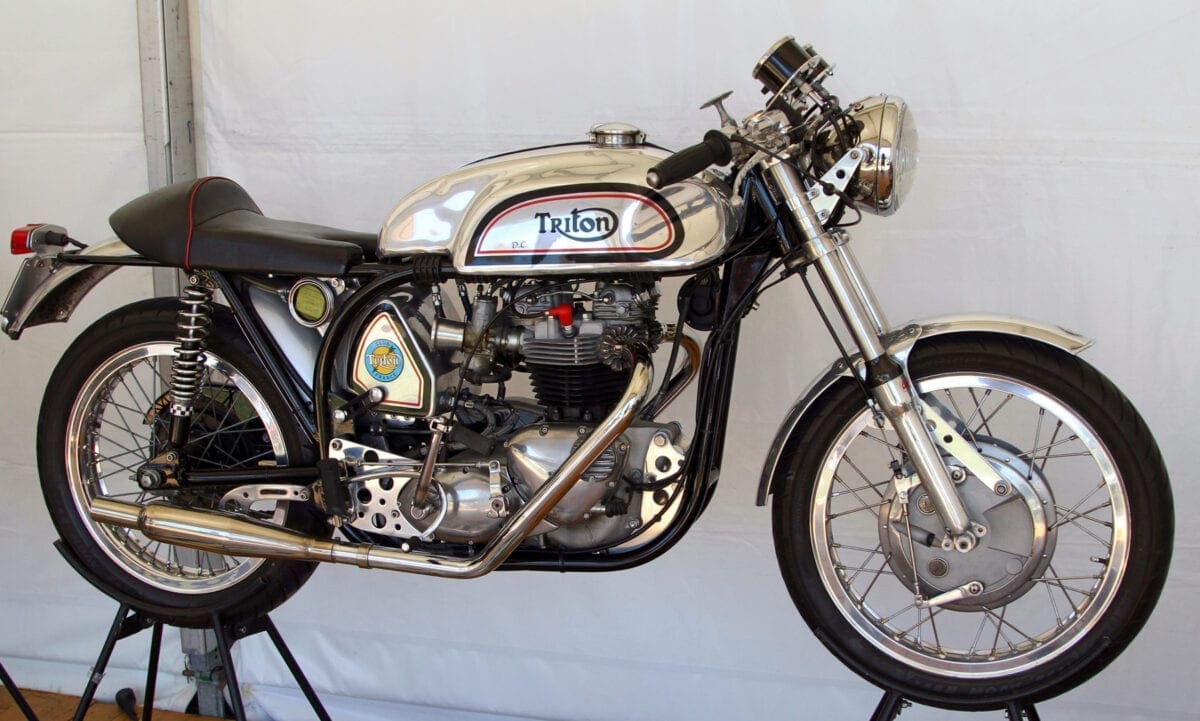 Of the life-style bikes, I most enjoyed the reinterpretations of the iconic Triton. There were some truly breath-taking Tritons which were true to their original roots and yet worked in 21st century styling with complete harmony. Once again, reaching out to the old and taking it into the future.
One custom creation which was truly memorable was a faux 1920s, electrically powered, disc-braked monstrosity whose presence must have been due entirely to the creator winning a prize for the ugliest, most impractical, two-wheeled vehicle in France. But while I don't like custom bikes, I do enjoy customised motorcycles and all the manufacturers were heavily into this game. For me, the winner was a lovely Triumph bobber – another very modern and 2018 creation but still with a recognisably 1960s gene bank.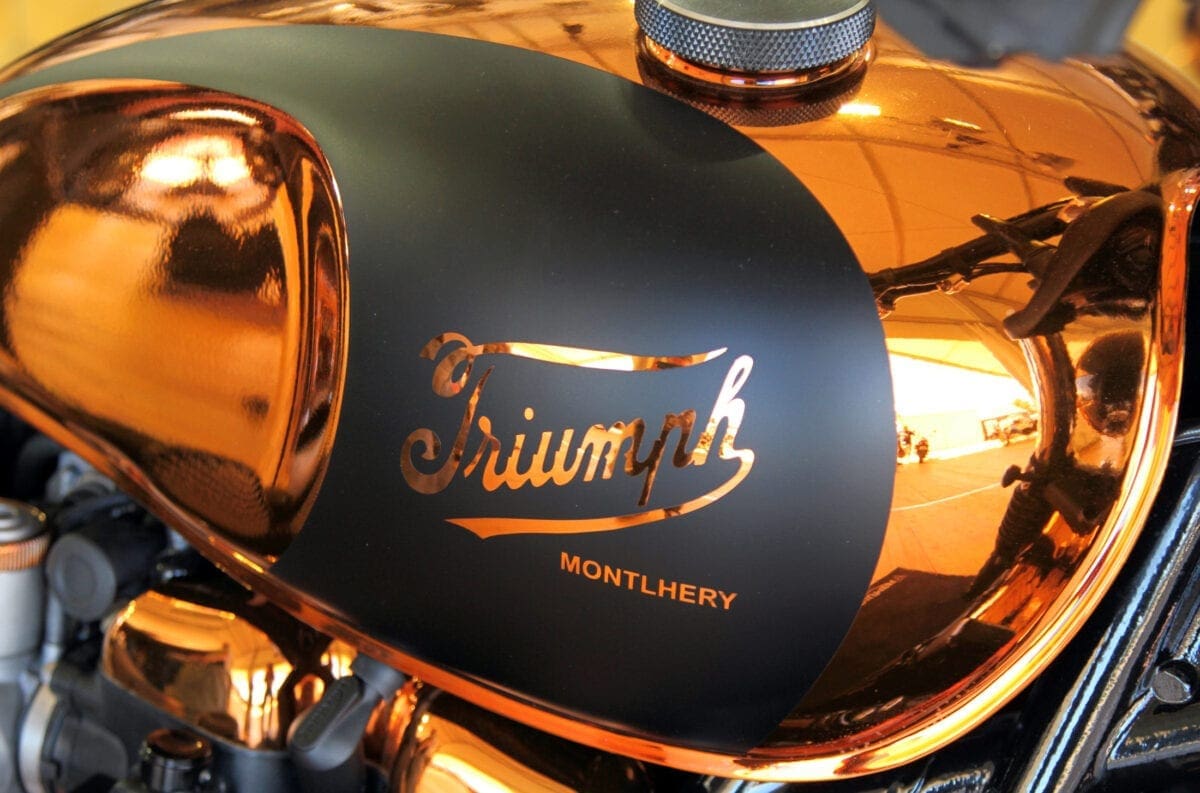 As well as the bikes there was a good sized trade area reflecting the eclectic range of offerings at the show. It wasn't Stafford or Kempton Park by any stretch of the imagination but was pleasant enough for a browse. The faux drag racing was mildly okay for five minutes – but no more. Really classy rock and R&B bands entertained with English language songs which made my French feel a bit de qualité inférieure.
And now to part of the show which wasn't very good. I rode our Manx Norton in the GP class and it should have been a memorable experience. A legendary circuit with one of the great GP bikes of all time: what could there be not to like? The answer was (multiple expletives deleted) the chicanes, which were littered all over the place. I've nothing against chicanes which are integrated into a circuit but not when they are parked randomly with the intention of bringing speeds down to not much more than a fast jog. Things were so bad that, in the end, I parked the bike in the trailer and just enjoyed the show.
So yes, come to Café Racer for a really good show but not if you want to ride a motorcycle on a race circuit.
Getting There
Normally, journalists only mention travel companies when they are getting freebies. This case is different because I paid full, retail price for our ferry tickets. We live in Cheshire and are now effectively cut off from Dover because of road works. Reaching Dover is a guaranteed hard six hours and can be much longer. The Dover-Calais ferry crossing is unpleasant, and the tunnel isn't any better. Neither route is sufficiently long to have a break before getting stuck into the next drive.
Also, returning via Calais is a thoroughly unpleasant experience with a covered trailer involving long waits and multiple inspections. Last time, we were two hours in the queue – and this was no fun and added hugely to our return journey time. So we looked at Brittany Ferries from Portsmouth to Caen and it was like going back 25 years! It was a much easier and 50 miles shorter drive to Portsmouth, and boarding the ferry was quick, easy and pleasant with relaxed, smiley staff. We sailed on the Mont St Michel which was a much more luxurious vessel than the troop ships on the Dover/Calais route. Because the journey was 5½ hours, we hired a cabin for £21 so we could have a nap and shower before the onward drive.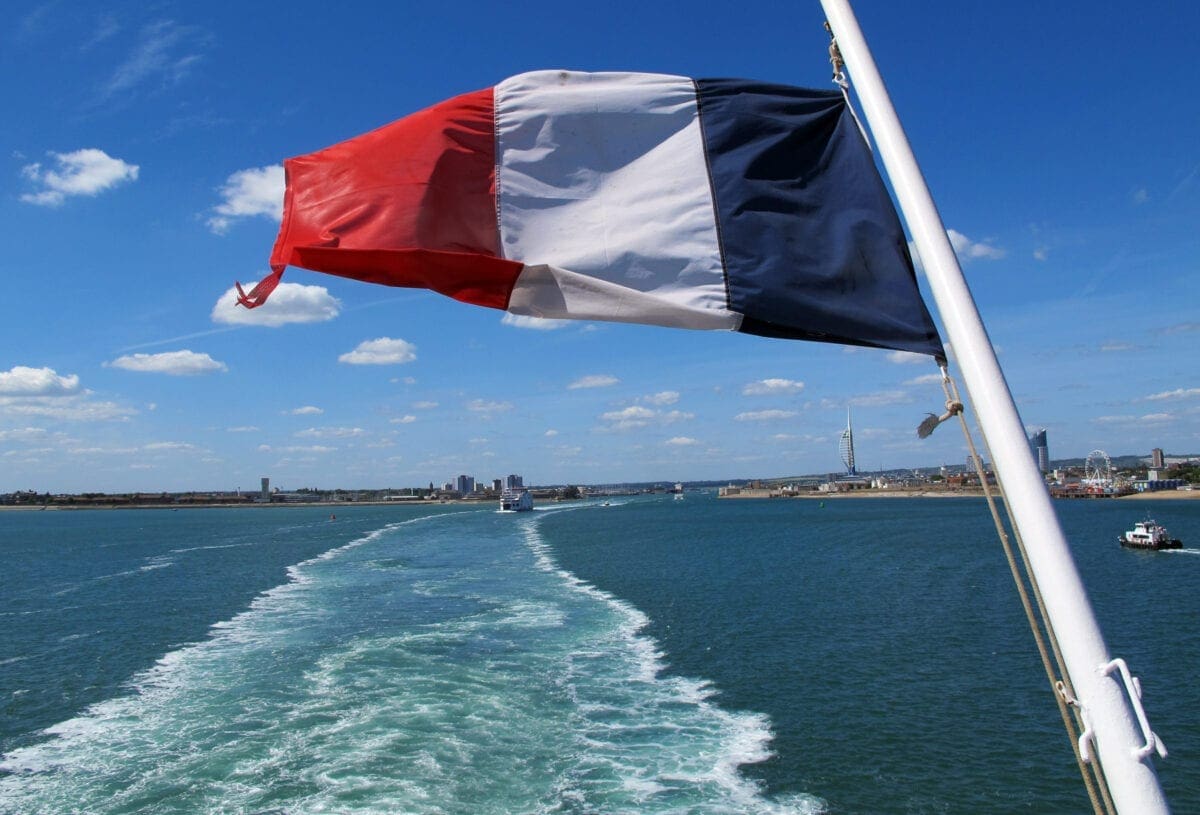 It's actually 45 miles shorter to go to Montlhéry via Caen compared with the Calais route. Clearly, all of France except the very north is closer but surprisingly even Geneva is too! Finally, prices for the two crossings are roughly in line. The Portsmouth-Caen route is more expensive – not hugely so, but money is saved in terms of less distance on the horrendously expensive French Autoroutes. So, if you live in t'north, Midlands or the west of Britain, this is worth considering.
——–
Words by Frank Melling / Photos by Carol Melling