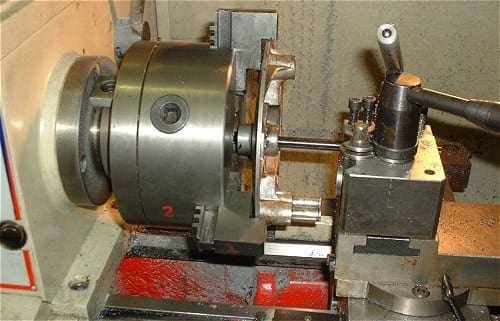 Malcolm Thomason loves his MZ, but its going was definitely better than its stopping. He looked at the front brake with an engineer's eye…
Everybody knows that the Supa 5 front drum brakes are rubbish. Don't they? But why? The front brake is the same size as the rear one, and that can lock the wheel. I've had a play and think that I have solved the problem…
When examined, the front brake seems well made. It looks rigid and is surely big enough at 160mm. Two things struck me:
1: The actuating arm and cam is half on before the lining makes contact with the drum.
2: The back plate is a close fit on the spindle so it doesn't allow the brake to centralise within the drum. (This last one may be a red herring as I carried this mod out first and although the brake improved, it was not the full solution).
So, armed with a lathe and an engineer's belief that I could only make things better, I set to work.
First, the stripped down back plate was bored out to 15.75mm to give it some self-centring clearance. Photo 1 shows this being done in the lathe using outside jaws in the 3-jawed chuck. (It ran true to within a few thou as checked with a clock gauge.)
Secondly, the spare brake shoes were sent to Saftek at Cleckheaton to be fitted with over-size shoes of standard road-going material. They came back within three days and I cannot fault the workmanship. Brilliant value for £26 including postage.
I built the shoes on to the backplate and inserted some 20-thou shim steel between the cams and the shoe ends and mounted the assembly on a simple mandrel that I turned out of an old bolt from the scrap skip at work. Photo 2 shows the set-up and photo 3 the mandrel.
The shoes were then turned to a bare clearance fit in the drum and the shims were removed. Everything fitted beautifully and the cam is virtually at the datum position.



Reassembled, the brake felt positive with none of the sponginess it had previously. Applying the brakes at walking pace felt good and safe enough for a spin. Out on the road, the bike is transformed! The efficiency is fantastic, as good as a disc. I could make the front tyre squeal with a two-finger application at 30mph, and the rear wheel was becoming airborne.

The whole job, including making the mandrel, took three hours and only cost the £26 for the re-lining. I would recommend this to anyone with access to simple lathe work.

The final photo shows the bike in its present glory with rebuilt wheels, polished hubs and rims. Isn't she wonderful?






Random MZ stuff on eBay.co.uk
---
Advert

Enjoy more RealClassic reading in the monthly magazine. Click here to subscribe.
---