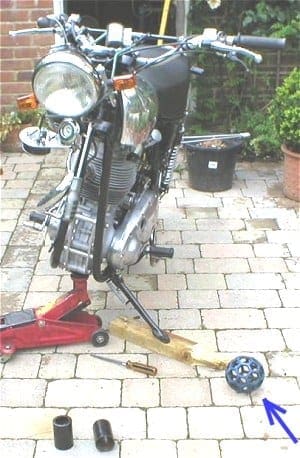 The end of Philip Rashleigh's scrambler-special project is in sight. But no matter how close you think you might be to actually finishing a rebuild, there's always more to do than you might imagine…
A new problem had shown itself, how to get the rolling chassis to Bedfordshire for the minimum amount of cost. There were three options three. Hire a van, hire a Trailer or see if it would fit into the back of my car. I am happy to say after a trial run the bike fitted into the back of my car, which was the least costly and quickest way to get it to Roy, who'd been building up the engine.
So duly loaded we set off to Bedfordshire; once at Roy's we unloaded the bike and spent a few hours talking to Roy and his partner. Once the bike was assembled and wheeled through I was able to get far enough away to really appreciate what I had created. To be honest, apart from the big hole where the engine should be, it looked quite nice! Then we moved into Roy's workshop where I was able to touch the engine — this may seem a silly thing to say but until this point, apart from photographs, I had never seen the components assembled in one lump as this was the one step that I had totally farmed out.
A quick look around the workshop and a chat about various projects, customers and race bikes and it was time to leave. On our return a month later there would be, with any luck, a fully built-up and running motorcycle.
After several weeks an email arrived with the good news. There were a few things that needed doing but the bike was a runner!
I have to admit to being 'away with the fairies' when I heard this. It was two and half years since I'd bought what was essentially a basketcase, which transformed into 75% of a dead bike, then to a rolling chassis and finally a running bike. It really hit me. I had done it. I had rebuilt a little bit of Britain.
A day after this seminal event I called Roy to get the full story. The build hadn't been a bed of roses! The gearbox had come apart and was rebuilt as it wasn't selecting gears correctly, and the forks had little travel. The good news was that the bike started easily, responded well to the throttle and sounded just like a pre-65 scrambles bike should.
There were comments about running the bike up Roy's long garden and trying to jump the hedge at the end, in the tradition of the Great Escape! Roy was genuinely pleased with what we had achieved; him on the part of the engine and me with the cycle parts. Words of warning were issued though: the engine is fitted with a used crank and big end. It was cleaned and checked, everything lined up and was well within operating tolerance but it's still a used crank. Note to self: save up for a steel crank conversion. Directions on running in were given and then we moved onto the forks.
| | | |
| --- | --- | --- |
| | | Random B31 stuff on eBay.co.uk |
The forks have gaiters fitted to them; this was achieved by using a cone drill to open up the top shrouds from a plunger BSA and then placing them over the forks' coil springs during assembly. Trouble was, I never cut them down so I had a full height shroud which was hitting the fork seal holder when the forks compressed.
Now this was nothing I could have ever tested as I didn't have a front brake that worked until the bike was at Roy's. That kind chap was bored one evening and he took the front end apart and cut down the shrouds on his lathe for me, so the forks now worked.
Other problems? The forks seemed very stiff and the rear suspension topped out. The forks had the correct 20 weight oil in them, but this may be too much for the Shearwood dampers fitted to the bike as the forks returned very slowly. It's a suck it and see thing. The rear shocks are new NJB units and may settle down or require taking off and pumping a little to get the fluid around the dampers. The clutch seems a bit heavy; 'see how it goes' is the advice as it's all new and may need to settle in.
With all this ringing in my ears, I arranged with a good friend to pick up the bike from Roy's at the end of July. This was a convoluted trip involving trains, Merc Sprinters on car ferries, and a meeting point in strange town. About six and a half hours after leaving home I was at Roy's for the second time in a month. There in his back garden was the Beesa. I have to say it looked better than I had hoped, I was totally captivated by it, and couldn't believe it was all over.
The bike was built and it was stood before me.
Mind you, bike looks a lot smaller with the engine fitted! I don't know why, it just does.
Roy asked if I would like to hear it running… Well, yes, it would be nice. So he gave it a quick tickle of the Mk1 carb (notice Mk1 not Mk2, that's the power of RC® that is), a fiddle with the advance and retard lever and an almost lethargic shove on the kick-start. The bike fired up. I was expecting a low 'Duff-Duff' from the exhaust but there was a definite bark and snap to the note, which was pleasing, Roy then fully advanced the ignition, which hardened up the exhaust note even further, and he knocked the bike into first and was up the garden and into second, then down into first around the tree, open the throttle again, up into second again and then to a stop.
I have to say I was close to tears I was that happy. The bike was everything I wanted and more.
So now all we needed to go was get it home, and get it ready to ride on the road…
---
Advert

Enjoy more RealClassic reading in the monthly magazine. Click here to subscribe.
---